THE CREATOR
My name is Donald Hutson and I am most defiantly a robot enthusiast that has spent the last 20+ years fabricating and creating all sorts of robotic creations for both work and play.

I Currently work for Qualcomm Research corp. here in San Diego as a Support Engineer/Staff specializing in robotics.

Way back in 1996 I designed and built a heavyweight robot called "TAZBOT'' and a few years later a Super Heavyweight robot called"DIESECTOR" Both of these Robots were specifically built for Robotic Combat Shows like Robot Wars and BattleBots.

My background includes working as a Design Engineer at the Neuroscience's Institute (NSI) here in San Diego from January 2000 to July of 2013. I worked in the Machine Psychology lab designing and building robotic platforms know as Brain Based Devices ( http://www.nsi.edu/nomad/) . Nomad is one of the early brain based device that is not quite a computer or a robot. Instead, it is a machine that actually thinks and makes mistakes as it learns.

Before NSI I worked as a Rehab Technology Specialist for about 9 years repairing & customizing home medical equipment like, liquid oxygen units, compressor's, infusion pumps and high tech power mobility devices with environmental control systems. Before that I worked my way through school as a welder/fabricator for a local awning company.

My experience with robotics started way back in the day with Lego's and all other toys that I could either take apart or modify in some way or fashion. For some reason I always wanted to make them better or experiment with how they worked. I got into remote control gliders & helicopters at a early age and every since then, have had a blast creating high tech toys for covert news origination's, the medical equipment industry, Neuroscientist and most of all, ME!

GLIDER-CAM

My RC gliders soon became a hole new sport when I started cramming video transmitters, cameras & servo pan & tilt systems in them to try and fly by tella-presents.

The 4th version of GLIDER CAM had a plastic fuselage, a full flying ruder (for flat spins) and weighed in like a rock at 5lb. Unfortunately G-CAM crashed in May of 1996 on a very windy day due to battery failure. G-CAM went in full speed inverted with a dissected 8-mm camcorder; a pan & tilt color camera and 500mw transmitter to watch it all come to a spectacular end! See Video page.
SKYWALKER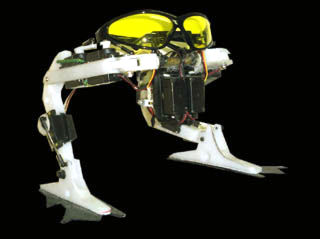 This is a prototype of a walking robot I created called Skywalker. The purpose of this RC robot was to test a users ability to maintain balance manually through visual response using a modified aircraft radio with twin liftable and pushable joysticks for control.