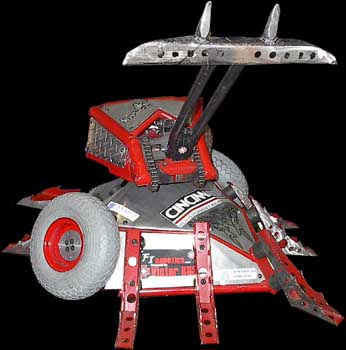 This is Tazbot as of May 2002 the robot has been upgraded with some new 4130 frame work , 6 24v Ni-Cad packs from Ballistic Battery, thicker armor and a new shock mounted trusses .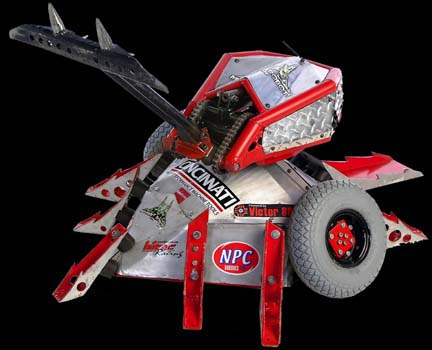 Tazbot 2001
Tazbot 2000 Well after the Long Beach Battlebots fight with Biohazard I found myself trying to reinvent the way Tazbot flips back over! I ended up adding a chain drive system to the turret using 4 motorcycle sprockets in front of the arm acuator. This was used to add another 180 degrees of vertical rotation to the pick ax. But, as most of you know every thing has its price!
The arm was much faster and seemed to be strong mechanically with only a slight lost of strength when lifting. (IT WORKED) Tazbot was given the ability to flip back over from any angle. (Provided there is the chance to do so!)… By rotating the turret and raising the arm all the way up the robot wants to settle on the palm of the main weapon.
The arm then rotates back down and pushes the ground away. If all goes well were back in action! I also added a Vantec 38E speed control to the turret and an upper rollbar "Just in case".
Tazbot's New turret for 1999 has a new secondary arm with a Rollerblade wheel in the end. The new appendage is connected to the end of the arm acuator via two steel push rods. The idea behind this was to create a better way to flip back over with a small amount of weight. The tail also got a better weapon and was made a bit longer with stronger springs.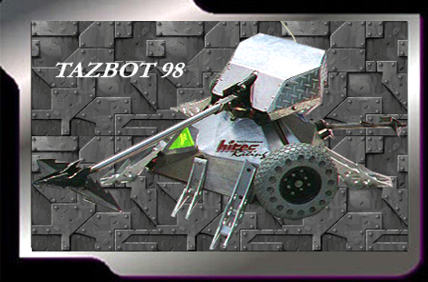 The new completely rebuilt 98 TAZBOT has a new frame, wider cambered stance, faster arm actuator, more power, custom weapons, three new sponsors and a color camera to whatever respectful Robotic competition is created!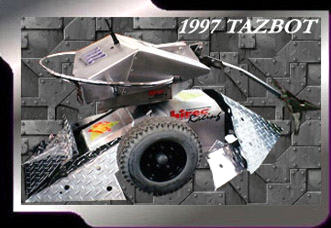 In 1997 Tazbot was upgraded with rubber-mounted armor, a bigger and better turret, rebuilt motors and two new sponsors. Tazbot managed to win two rounds agents Tallywhacker and Metallithor before but the Heavyweight La Machine and the tank like teammate, Doall, halted the winning streak again. Tazbot did OK in the MELEE, but took a few direct blows through the roof from Frenzies pick ax ''while trying to flip him over'' and Tazbot was just about squashed by Team Sinister's 300lb robot called The Snake!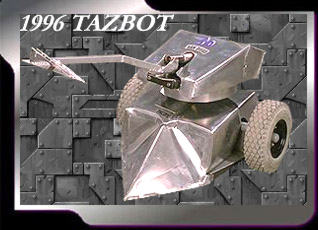 In 1996 Tazbot held his own against the Master in its very first fight! ...
Unfortunately, the second battle was a pitiful smashing by La Machine. The 96 Melee # 1 was great and Tazbot managed to bust open hydraulic lines on Red Scorpion's main drive system, spilling robot blood around the ring. Melee #2 was a bummer; Tazbot spent 4 of the 5 minutes on its roof attempting to flip itself over.
TAZBOT was first created eight weeks prior to the Marc Thorp's 1996 Robot Wars in San Francisco. The robot was made from refurbished parts. The main drive motors I got rebuilt by National Power. The concept and fabrication was accomplished entirely by myself. The remote controlled (175LB) robot was built to do Battle in robot fighting contest like the new BATTLEBOTS TM, ROBOTICA TM and ROBOT WARS TM, in fights to the death. Tazbot incorporates 360 degrees of offense and defense by swinging or lifting its 15-LB pick ax to smash or flip its opponent.

In 1997 Tazbot had a small base which sat on two large solid wheels, and a blade on the end of a 3ft arm which would swing around on a turret mechanism. The arm was mainly used to beat on opponents; the turret could rotate quickly from side to side. The arm could also lift an opponent, although Tazbot didn't have enough leverage to flip an opponent over this way.
Tazbot had armor plates made from aluminum diamond plate, mounted to the main body by rubber shock absorbers. The body itself was a square metal box, containing the main batteries, speed controllers and drive motors.
The turret was independent of the body, with its own control system. A large linear actuator - geared for slow speed and high power - raised and lowered the stainless steel arm. The arm actually had enough strength to lift a 175lb opponent on the end of the arm. The turn motor, mounted in the turret, was connected by a timing belt to a pulley fixed to the body. The helmet had a roll bar in the shape of an eccentric to assist with flipping back over.
A SUPER THANKS TO TAZBOT SPONSORS
I would like to really thank everyone who donated time, parts and support towards the Tazbot legacy: Pat Moore and Robert Blure from Action, Chris Hues from Motion, Mike Maybarry at Hitec RCD, Bruce at American Airless, Rich at National Power, Dave & Dennis at MK Battery, Randy & Chris at Stature Electric, Dave at DA graphite, Bob & Tony at Innovation First Inc, Homer at Axis Design, the Team Coram crew, as well as all the other robot competitors and friends who have stuck there neck out to further the ever changing sport of robot fighting competitions!
If you are a company or origination who is interested in becoming a sponsor or have questions about Mutant Robots you can e-mail me at mail@mutantrobots.com
The new Tazbot is well under way and lets just say; "It's going to get real ugly"!