Tazbot Vs Metallithor
Heavyweight
2nd Elimination Round
Saturday Evening


Victim of low budget and last-minute construction, Metallithor was suffereing from a lot of mechanical problems this match; Its hammer mechanism was not working, and its drivetrain barely had enough power to move it.

Metallithor managed one burst of speed scross the arena before loosing almost all power. As Tazbot approached it, Metallithor started swinging its hammer arm around vicously. Tazbotr charged fearlessly in, and hooked its blade under Metallithor's frame. Metallithor's hammer smashed into Tazbot without doing much damage, and as it tried to continue spinning the arm the belt driving the spinner started slipping, and overheated in a cloud of blue smoke.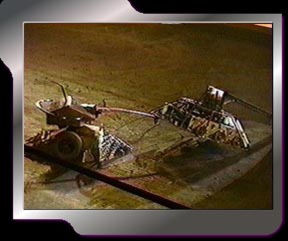 Tazbot lifted Metallithor off the ground; Metallithor's only recourse was to try and swing its arm around - but the half-melted belt had little grip left, and it only generated more smoke trying to work.
Tazbot just didn't have the leverage to flip Metallithor over, and had to put it back down. For a moment. it looked like the still smoking Metallithor was immobile, but it managed to jerk back and forth a bit and the battle continued.
Tazbot started whacking Metallithor with its arm. It couldn't do anything to Metallithor's steel frame, but did manage to rip off a plastic armor piece which had been taped to Metallithor's frame as a last-minute addition.
At the end of the match Tazbot was fully functional and working, and the smoking Metallithor was just about dead. Tazbot was declared the winner.



Tazbot and Diesector are registered trademarks of Mutant Robots and may only be reproduced with our express written consent!!! All rights reserved.