Tazbot Vs Tallywhacker
Heavyweight
1st elimination round
Saturday morning

Tallywhacker, knowing it would be difficult to hit Tazbot directly, lowered its arm and span in place. The bladed metal piece on the end of the arm whipped around in a circle dangerously, until an arena spike descended and halted it. Tazbot seized this opportunity to charge in and strike at Tallywhacker. Tazbot hooked its blade arm into Tallywhacker's rubber armor and started lifting it off the ground; Tallywhacker flailed violently with its weapon arm until it was able to shake itself free.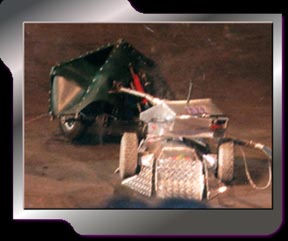 Tazbot span around, whacking its opponent with its bladed arm. One of the blows penetrated Tallywhacker's armor and hit its control box, knocking apart a connector. Tallywhacker immediatly went dead. Tazbot pushed it into a wall, hit it a few more times, and was declared the winner.


Tazbot and Diesector are registered trademarks of Mutant Robots and may only be reproduced with our express written consent!!! All rights reserved.