The concept of Root Canal was in the working for many years before I finally had the courage to take on the challenge. The main problem with an Omni directional robot is traction. The main advantage is agility. At first, I came up with this crazy idea of friction driving two foam filled kick balls, something similar to your computer mouse ball. I spent eighty dollars in ball casters from McMaster-Carr and many hours designing a frame system to hold the drive balls before I realized it would be to difficult to do it efficiently.
After further research, I decided to go to 4 wheel, direct drive design with the motors set at 45 degrees. The wheels that seemed to work best I found at a company called North American roller products. They are very light, 5-inch wheels with little traction. The design of RootCanal needed to incorporate many important functions. One was to add some type of flexible suspension so that the four omni wheels would stay in contact with the ground. The second was to allow for some type of interchangeable weapons. I spent many hours thinking about a way to make a prototype that would just test the theories and answer the vital questions, would it be Battle Worthy? , Basically, I just needed to build it to approve or disapprove the concept.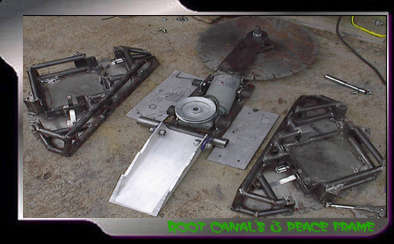 I used an old arena saw blade that was given to me at the first Battlebots event in 1999 for the base of my construction. The 1/2 inch chromolly .060 parameter frame was built 3 1/2 " tall and could pivot on a 1.20 wall peace of 4130 tubing. The spar allowed the chassis to be built as one before cutting the frame in half. I then re-connected it with some 2" rubber bushings. With a short frame it also allows the robot to drive inverted. When it came time to mix the controls I simply imitated the strafe controls on a video game system. Root canal was movin and gruvin.