BATTLEBOTS RETURNS ON ABC
June 21st at 9 PM
click here to see the
BattleBots is Back!
Published on Jun 13, 2015
Check it out
Jamie and Adam do a nice Battlebots bit on TESTED.
BattleBots is coming back, and we couldn't be more excited! We've been granted exclusive access to the BattleBots pit, where teams from all around the world have brought their new robots to be tested in the combat arena. In the first of a three-part series, we meet with eight of the teams to learn about their robots' fighting potential and how new technology has changed how BattleBots are built.
That's right bot fans, the robots are back and ready to fight. Tune in, June 21st 9|8c on ABC for the premier of our new series! You'll see some new faces, some familiar faces, and an array of incredible fighting machines that will blow your minds. Strap down your television set, cause the metal-munching-mayhem is about set off.

Molly McGrath (Fox Sports) will host BattleBots' metallic melees, veteran sports broadcaster Chris Rose and former UFC fighter Kenny Florian will deliver play-by-play and commentary, Allison Haislip (Attack of the Show) and NASA engineer Bobak Ferdowsi serve as sideline reporters, and Faruq Tauheed is your ring announcer.
Judging each battle will be onetime BattleBots competitor/special effects artist Fon Davis, NASA astronaut Leland Melvin and Nerdist's Jessica Chobot.
2 30 2015
Battlebots returns to prime time and Team Mutant Robots will be there with an all new robot called Lock-Jaw.
2/20/13

Robot Combat League (RCL) airs February 22 at 9:00/10:00 on SyFy
The Series Premiere of RobotCombat league airs Tuesday February 26 10/9c .
Robot Master Mark Setrakian and his team built 12 of the 200.00 robots in just under a year. The robots are all hydrolic and operate at 2000 psi. A side from the typical over the top and just insane engineering that Mark always pulls off with his other projects he some how managed to figuar out a way to just get the ball rolling. The amazing thing Mark did was to remove alot of the reasions it has not been done before in order to see it evolve.
Nice Work Mark
Please tune in to see this awesome new show and show your support
You can watch the First epsode on line here
12/3/09
Well Its almost Robot Fighting Time.
The premier episode of the New Battlebots College tournament will air on CBS College Sports on 12/10/2009 and will feature the UCSD Triton Robotics team that I helped mentor back in April. Check out there awesome website for a sneak peek of some of there amazing adventures.
BattleBots begins airing on CBS College Sports at 9 p.m. Eastern on December 10, 2009
12/2/09
Look's like Autodesk will have some Battlebots at there Auto desk university trade show in Las Vegas on December 1st.
Here's what they had to say.
BattleBots is allmost back on TV, brought to you by Autodesk Inventor
The premier robot combat sport is back in action this December, and key participants including BattleBots co-founder and CEO Trey Roski are at AU 2009. Sponsored by Autodesk Inventor, the popular BattleBots television show will begin airing again on CBS College Sports on December 10 at 9:00 p.m. Eastern. BattleBots competitors bring remote-controlled, armored and weapon-clad machines to fight for domination in an elimination tournament until one robot, or "bot," disables the other.
Student and professional competitors who designed their BattleBot entries in Inventor software are on hand to showcase their work in the AU Manufacturing Lounge, located on level three of the Mandalay Bay South Conference Center, on Tuesday, December 1. Christian Carlberg, the coach and organizer of the San Luis Obispo CalPoly Team, will show attendees CHUNK, the university's contender in the College BattleBots competition. Carlberg and the college team used Autodesk Inventor software to quickly and correctly design CHUNK so that no time was lost with redesign or fabrication errors.
11/30/2009
The next Battlebots event is set for April 2010.
Ready Your Robots and Prepare for Battle, The 2010 BattleBots Championship is a go!
The next BattleBots event will take place April 6-11 in the San Francisco Bay Area.
10/1/09
Here is a link to a cool new Battlebots Forum that one of the UCSD guys found.
The Unofficial Battlebots forum
4/28/09

Just got back from BattleBots 6.0 and I want to thank all the people that help me get through this very dificult time.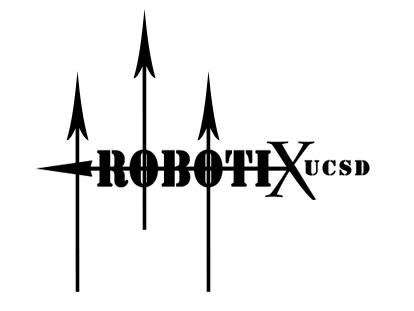 The UCSD Robotix team was the ultimate college team to mentor. I would like to publicly thank Matt our Team Leader and Ron our Driver for pulling the entire team together for a really fun and educational time. It was pure determination and devotion that got the robot from a SolidWorks model to a real Battlebot. They should all be as extremely proud as I am right now for just gitting the Trition robot in a battle ready state. As you know we are under a NDA tell the college Battlebots event airs on CBS sometime in August. You can check out there web site to find out more info in on the Triton Robot and and the many ways to support the UCSD Robotix Team in there future robotic endeavors.
I also have to give a huge Thank you! to my fellow First mentors that came to my rescue when I needed them the most. Construction Tech Academy's Robotics teacher , Dionicio Riego de Dios (Stage name John) who worked tirelessly on getting the bot ready. My pal Paul Ferrell, a talented Spawar engineer who if not for his constant hard working efforts and can do attitude I would not have even been able to show up.
My lovely wife Dawne who showed amazing composer and courage in our most difficult time. She reminded me that, Some times in life the world will toss you a few pulverizer's and its what you do about it that defines who you are.
Xoxox!
I will try to up date this site soon!
3/5/09
Team 1572,The HammerHeads made a good showing with there new entry into the First Lunacy robot competition. You can check out there web site or see videos of there endeavors at the Blue Alliance site.
2/20/09
If your in the San Diego area on March 5-7 2009 come down to the San Diego Sports Arena to see over 40 First Teams battle it out for a chance to go to the main event in Atlanta in April. This event is open to the public and parking is free as well. You can click on the Team San Diego link to find out more about Were,When and How you can support this ever changing robot event.
1/25/09 Battlebots is Back

BattleBots has announce that registration for the April Event is officially open.
The next BattleBots event is scheduled for April 20-26, 2009 and will have three concurrent tournaments that include a Pro Championship, a Collegiate Championship and a High School Championship. All three will be filmed in HD.
1/5/09 First Kick Off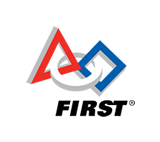 The 2009 First Robot competition is under way with a new Lunacy game. The new game requires the use of very slick wheels on a very slick surface to simulate 1/6 the earths gravity. I will be trying to help mentor the Team 1572 (The Hammerheads) for my third year.
4/6/08 GEARCROW is ready for battle!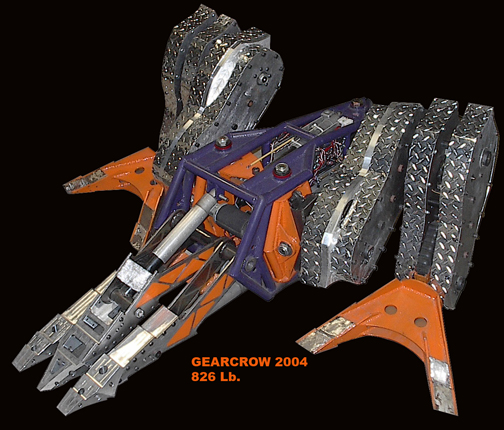 Note: This is a older Photo of the Larger GearCrow Robot and I have a New 200 Lb. machine in the works that is not only Unique, It has a lot more axis?

As many of my fellow combatants know I have been working hard the last few years to build a Few new Biped robots that could handle Robotic Combat.
I know what some of you are going to say! Its expensive and difficult to make a robot work reliably and really deal with a true dinamic envierment!
Hmmm! Sounds like a opportunity to me. With a boatload of New Robo 1 Robots and a few custom actuators it may be simpler than you think.
One of my base line ideas for geting some sort of a Experimental Battlemorphic event rule set are .
Weight is open from say 150Lb. up to 1000Lb.
Must have Anthropomorphic locomotion.
No Crazy kinetic weapons just yet, as these robots are going to difficult enough to just keep moving.
I suggest basic hand held weapons like swords, bats, grinders and Abrasive cut-off saws. These types weapons would influence good servo control and still make for a compelling event.
The Game could be set up so you could win one or more 2 min rounds in any combination of ways.
1 Combat the other robot head on. (May cater to the Strong and Fast Robot)
2 Out maneuver the other Robot by getting to your opponents side of the ring and knocking over all three of there Sponsor icons or Nuts (Might cater to the Fast Light Robot)
3 Out maneuver the other Robot and steel one Sponsor Icon or Nut and place it back in your own square by the end of the match (May cater to a Fast Strong Robot).
I'm sure there would be more to this, but I think it is a start. A start in this direction is good thing for Robotic Combat and Sponsors who want to be involved in some major advancements in American Robotics.
I am Planing on showing up to a couple of events in June and November with a Few new machines. After the smoke clears from the First Over Drive Events I will add more details about the 4 NEW Robots.
I hope some of you take a serious look this next BattleBots challenge because sometimes, Nothing easy is worth doing!
4/2/08 Mahalo Hammer Heads.
Well I just got back from the FIRST Hawaii Regionals and Wow was that a blast.Congradulitions to the entire 1572 HammerHeads team for all there hard work and in winning the General Motors Industrial Design Award.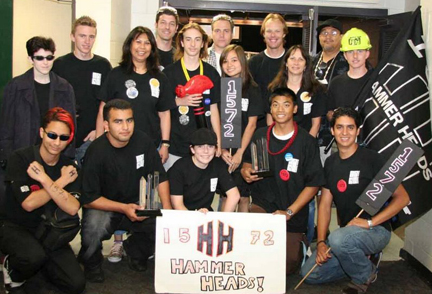 3/14/2008
Here is a short right up in Popular Mechanics about BattleBots on ESPN

3/5/08
HammerHeads Ready For FIRST Over Drive.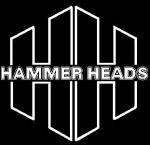 The FIRST Team I'm mentoring is all set for the San Diego and Hawaii regionals March 7-6 and 26-28. Come check out one or more of over 40 FREE regionals across the country to be held in the next 2 months.
Here is a link to some of the Web cast of resent events.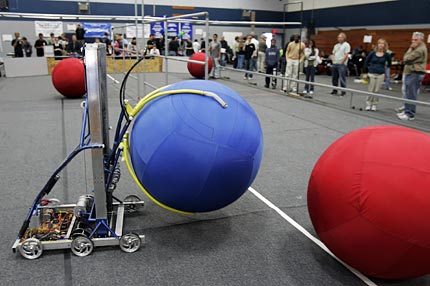 3/1/08 GRANT IMAHARA VEXPLORER
ROBOT CHALLENGE!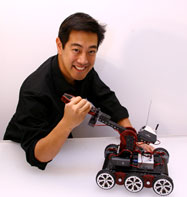 Students age 14 and up can compete for a $5,000 scholarship check. Students apply to be one of 25 contestants who will receive free VEXplorer kits for use in the challenge. The object is to creatively develop an interesting, unique application using just the components that come in this RC robot kit. Mythbuster Grant Imahara will pick the winners. Contest rules require posting of entries on YouTube, and creating the best videography of your robot in action will also be evaluated. The top winner will receive a $5,000 scholarship fund, 2nd place a $2,000 scholarship, and (10) runner-ups will get $200 gift certificates to vexlabs.com.
Any who wish to enter will first need to email a short description of their design concept—Grant Imahara and Robot magazine will pick the 25 contestants from these applications by March 24, and the winners will be picked by Grant Imahara in early June—they will be announced in the September-August 2008 issue of Robot magazine.
Details can be found here:

2/27/08
It's Robot Fighting Time!
BattleBot Teams to Square off on ESPN-C and ESPN-2

1/9/08 First Team 1572 at SolidWorks World
SolidWorks World was at the San Diego Convention center and Team 1572 got to hang out with Dean Kamen and Show of there Predator Robot from last years Rack & Roll Game.


1/6/08 FIRST Kickoff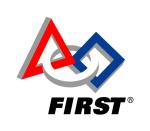 First competition for 2008 has kicked off and the New Over-Drive Event looks to be a blast. The robot competition includes running two teams of three in a counter clockwise race track with extra points for Hurdling a 40 inch ball over a 6 foot Over Pass. There are 1500 teams this year building 120 lb robots in a 90 day time frame.Wow!
11/5/07

Just got back from the DARPA Grand Challenge.Wow!
The MC's were none other than the Crew from MythBusters.
Lots of very cool robots and Sensors, Check out the Cool Velodyne 3D sensor that most of the DARPA teams were using. It was created by BattleBots and RobotWars Champions Bruce and David Hall.....Mmmm Sensors!
Congratulations to CMU's Tartan Racing!


5/12/07 Battlebots JavaOne a Rap

Congratulations to Jerry c from Team Hammer Time on there win at the Battlebots JavaOne Show.
Big thanks to Brady and Logan Davis for these videos of the JavaOne show last week in San Francisco.
Video

Team XD
/
5/8/2007 BattleBots show at Java One Conference.
BattleBots will have a small arena set up at the Moscone Center in San Francisco, CA. on May 8-11, 2007 for a Private Battle for the people at Sun Microsystems.
I will be bringing my old Middleweight robot Easty Beast that has been mutated into a new machine I call Carbide.
Carbide Photo

4/30/08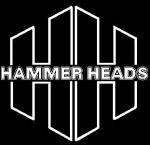 Congratulations to 1572 HammerHeads on winning the Rockwell Automation Innovation in Control Award and the Xerox Creativity Award .
This was my first experience with FIRST and I got to say, I really enjoyed it. I love the diversity of all the robots and the annually changing game. The the events were top notch and all the people involved were very cool and extremely helpful. Being a mentor meant I got to enjoy the hole team process of building and competing a Robot in 6 weeks without doing all the real hard work. The real job is just helping the team get through the design and fabrication process of a custom robot in a short time frame while teaching them something that they can use later in life.We had a lot of fun and ended up making it to the Quarterfinal's in San Diego and the Simi Finals in Los Vegas. The HammerHeads had very strong showing and I,m very proud to have been a part of the hole experience. Go HammerHeads!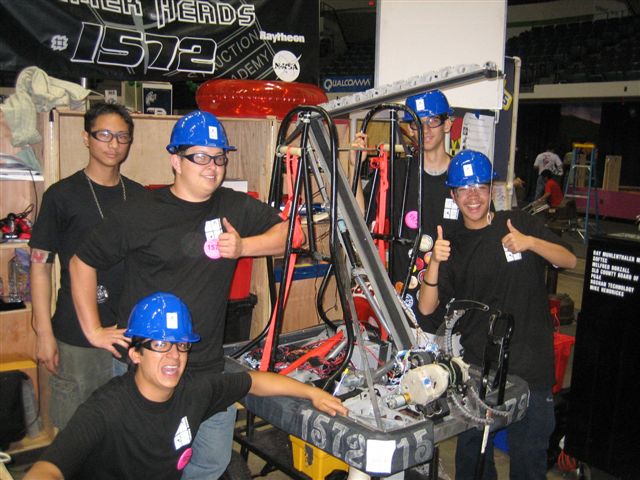 3/3/07 Robots are Ready
HammerHeads ready for this years FIRST Robot Competition at the brand new Regional event here in San Diego.
HammerHeads Website


1/ 5/2007
I was invited to help a FIRST Team (1572 HammerHeads) out this year by a local San Diego teacher and friend John Riego at Kearny High School here in San Diego.
HammerHeads Weabsite
http://www.ctarobotics.org/index.html
First
First Top Forums
http://www.firsttopsite.com/
Team San Diego: FIRST Robotics Coalition
http://www.sandiegorobotics.com/
8/20/06
BattleBots dose a Mini Battlebots show for the people at Cisco in Los Vegas.
12/30/05
I would like welcome Phase Perfect as a new Mutant Robots sponsor. The nice people at Phase Perfect helped me get my Cincinnati VCNC-750 up and running with there state of the art DPC-20 Digital Phase Converter. This Digital Phase Converter provides balanced sinusoidal three-phase power from any 240 VAC power source.Very Cool!
Thank you Phase Perfect!...................Hmmm! Robots making Robots?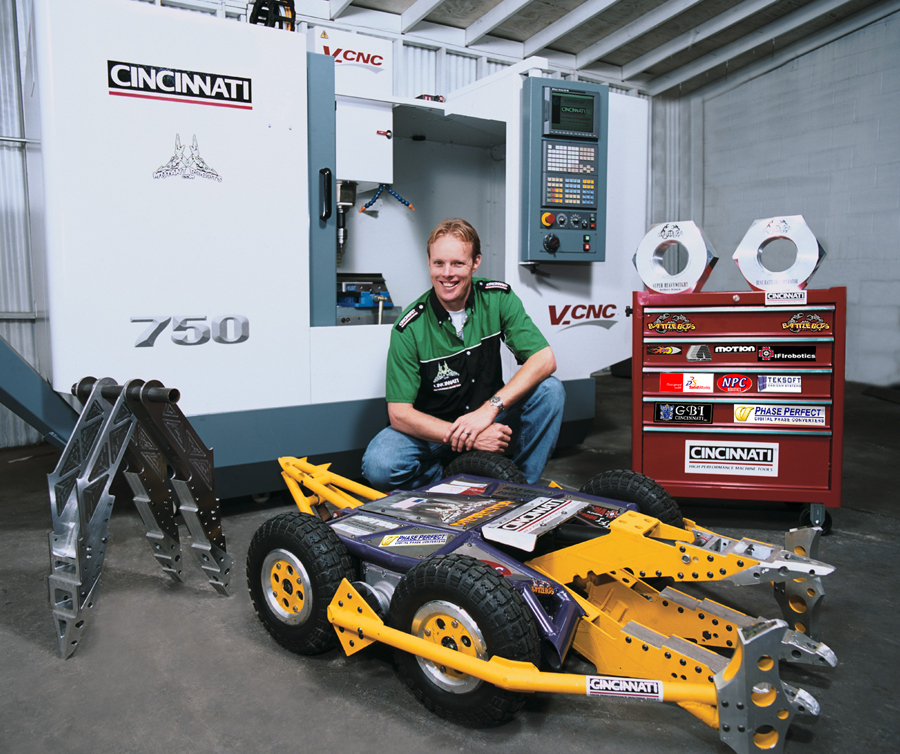 I would like to thank the guys at Jim Pratt Machine for all there help and machine space support over the last few years. Good people and awesome place to get New and Used Machines.
11/12/05
Went to Combots in San Francisco,CA. to take a shot at the Heavy Weight prize of 10,000 bucks. I did well but lost by a 1 point decision to Sewer Snake. Doe! ...You can see the complete fight tree here and some Karcas Vs Sewersnake videos here.
9/10/05
I am the proud new father of Trevor Donald Hutson who was born September 10, 2005.
7/1/2004
I modified the Karcas Robot into a heavyweight (220Lb) just for the NPC Battlebots Open. I added a new NPC Drive Motors, a 4130 Frame and a 40lb interchangeable plow system. I now call the Mega Plow. I went undefeated to win the Heavy Weight class!
4/17/04 Going to Battlebots IQ
Diesector and I will be at BATTLEBOTS IQ in Minnesota on April 21st helping with safety and judging. This IQ event will have High school and College teams competing for there own giant nut. Good luck to all the teams.
Check out the new Autonomous soccer playing machine from NSI.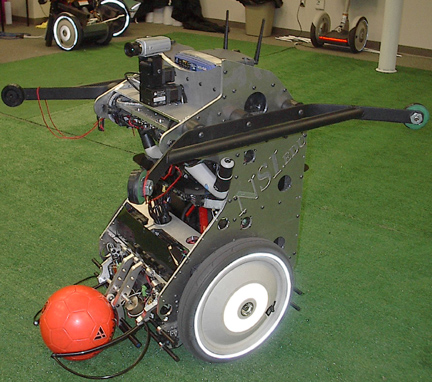 I will also be at the American Open Robo Cup in New Orleans on April 25 with a crew from NSI. We will be participating in an Autonomous Soccer demo with Carnegie Mellon using a slightly modified Segway RMP platform.

3/30/04 BATTLEBOTS UPDATE
BattleBots Events 2004
Here is a glimpse into Battlebots plans for the 2004:
Event #1: BattleBots IQ MMER Challenge - April 21-25, 2004, Owatonna Minnesota. Inaugural College Division back-to-back with the High School and TableTop Robot Divisions. For more information check out http://www.battlebotsiq.com
Event #2: NPC Charity Open, BattleBots/Minnesota Manufacturing Education Resource (MMER), July 4th weekend - July 1-5, 2004, Minneapolis, Minnesota. Charity event to help raise awareness for the MMER and support its education foundation. Prizes to be awarded through 3rd place in each weight class.
Event #3: BattleBots is also planning an end-of-the-year event in Mare Island California -- possibly in November.
Event #2 and #3 Details: - Four weight classes (Lightweight through Super Heavyweight) - Clean slate in regards to ranking and seeding - A revised Players Agreement allowing for 'Opt-in" exclusive merchandising rights & royalties - New arena obstacles challenging wedges and other low-clearance robots
Television: Event 2 and 3 will be videotaped for television broadcast.
Active Weapons: BattleBots is considering the implementation of active weapon requirements for the end-of-the-year event. Details to be released.
Megaweight Walker Class: BattleBots is also considering the creation of a new 340 - 500 lbs. Walker only Exhibition Class. If there were enough builder interest, BattleBots would debut this class as soon as the July event. If you are interested in building for this new weight class please let us know by completing our online survey (details below).
Online Survey: To gauge builder participation interest for the upcoming BattleBots events, we have set up an online survey. It would help us greatly if all builders could thoughtfully complete this form, it will aid us in our planning and help us evaluate event logistics. Please do not delay; the survey will close April 2nd, 2004. Go to http://battlebots.com/survey_2004.asp to participate in the survey.
Robot Wars: The final chapter of almost seven years of litigation involving Profile Records, Marc Thorpe, Robot Wars, and BattleBots is about to start, as the trial in the case of Astor Holdings (formerly Profile Records) v. Roski and BattleBots is scheduled to start on April 13, 2004. Although the court granted "summary judgment" to BattleBots and Trey on most of Profile's case last August, a few remaining issues will be tried. The trial will be held in the United States Courthouse in Manhattan, New York, located at 40 Centre Street. The trial will be in Courtroom 443, and the public is free to attend. The trial is estimated to last for 7-8 days. Stay tuned for further details. Best regards and good building, BattleBots Inc.
JAN 15 2004 NEW "KICKIN' BOT" BOOK
Read Grant Imahara's book, Kickin' Bot: An Illustrated Guide to Building Combat Robots, and check out the supplemental web site that contains hundreds of pictures as well as drill patterns and other resources to get you started building combat robots!
1/12/04 Battlebots on the Simpsons
(#FABF04 / SI-1504)
TV GUIDE .....I, (Annoyed Grunt)-Bot 11 Jan 2004 Homer and Bart are watching a BattleBots-type program on cable and are inspired to build a robot of their own. Marge disapproves, believing that their lack of engineering knowledge will doom their project. They build a robot anyway, but it gets slaughtered in its first competition. Unable to repair completely, they adjust the robot so that Homer can operate it from the inside. When it wins some exhibitions, the robot appears on the show that inspired them, where they not only find themselves outmatched, but they also put their lives at risk
8/20/03
In the last year and a half two fairly new robots have been created here at Mutant Robots. The first robot is a middleweight I call KARCAS. It was built in August of 2002 out of Diesector's old Steel jaws and a few beaten Tazbot controlers.The new machine tied for 2nd place at Botbash in AZ. It then competed in SteelConflict 2 in LA. were we lost in the quarter finals. The third battle was at the RC Expo for SteelConflict 3 ware we won the middleweight class.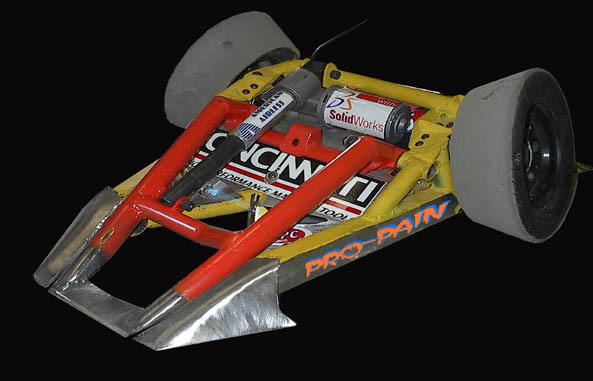 The Second Robot I Created in July 2003 is a New Light weight I call PROPAIN. The mini clamp bot was created for a new local Botbash event held at the Del Mar Fair grounds here in San Diego. The new machine was made with two propane flame throwers that were nicely tucked into the lower jaw frame.
4/3/03 Its robot fighting time!
But this time Tazbot, Diesector and many other Robots are on the number one TV show in America. (CSI Las Vegas).
So tune in April 3rd (Tonight) at 9/8 PM to see several of your favorite robotic machines and there builders battling it out on CSI prime time. you will see Knee Breaker, Ronin, OverKill, Dreadnought, Tazbot and the Battlebots Super Heavyweight champ Diesector in its first major roll as Jabba-the-bot!
PS: This show contains a mature robotic theme. Be warned!
Click here for the CSI Trailer or check out www.CBS.com and click on any "Video preview!" link. Under the "Check out more videos" button click on "4/3 CSI" for a preview of the episode. The episode is titled "Precious Metal"
TV Guide-CSI: Crime Scene Investigation Precious Metal 60 min.
A badly decomposed body is discovered in a beat-up chemical-waste drum in the desert. The investigation soon leads Catherine into the world of robotic demolition derbies in which custom-designed robots bash each other in combat-like competitions. Meanwhile, Grissom probes the death of a newly married man whose body is found in an alley. Catherine: Marg Helgenberger. Grissom: William Petersen. (VCR Plus+ 3154)
3/11/03
BattleBots Featured on hit TV show CSI on April 3RD 2003
A bunch of your favorite BattleBots will be featured on the hit CBS series CSI. The episode is scheduled for April 3rd so be sure to tune it, and look carefully in the background for some well-known Bot Builders posing as extras.
New Book by Brad Stone is now out.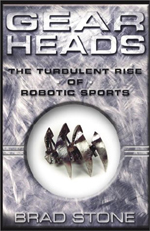 Stone's new book traces into the world of robot competition back to colleges like MIT and Bay Area art group SRL, and charts its growth into BattleBots and the vast network of local tournaments now held around the world. Everything you've only vaguely heard about is included here: the contentious lawsuits, epic feuds, and the events leading up to the formation of Battlebots in 1999. In the end, Gearheads is about the community of technology-loving people, and what happened to it when it was confronted with money, lawsuits, and the powerful influence of television.
Every builder should read the facts about how Battlebots came to be.
For more information on Gearheads: The Turbulent Rise of Robotic Sports, visit http://www.gearheadsthebook.com.
To buy a copy of Gearheads! Visit Amazon.com, B&N.com, or your local bookstore today!
1/17/03
Mutants in O-Town
I will be in Orlando Florida the 19th-21st for the SolidWorks World Conference. If your in the area come by and check out our BattleBooth (#109). You can see the SolidWorks designed Sweepstakes bot (Easty Beast) up close and compete against me with the Pro-Series toys for some cool Battlebots goodies..
NEWS 12/25/2002
Marry Christmas and Happy New Year!!
DIESECTOR WINS THE BATTLEBOTS SUPER HEAVYWEIGHT CHAMPIONSHIP!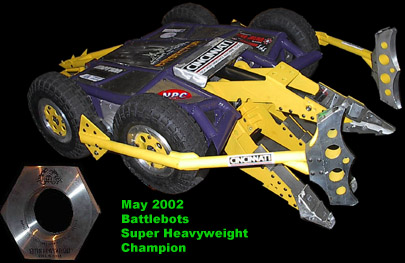 Thanks to all the Competitors for the honor of being voted the Best Battlebot Operator. I owe a bit of gratitude and some of each award to my wife Dawn and my Battle mallet pilots, Dave Cook and Mike Moore!
Thank You Cincinnati Machine Thank you Kevin Bevin and your entire staff for being the ideal sponsor. The support that you have provided for Mutant Robots over the past few years has been absolutely essential in our teams success. The New 4130 jaws this season and the plow device we made for the 4.0 season were superb upgrades and played a major roll in winning the Giant Nut. As part of Cincinnati Machines outstanding sponsorship support, they gave me the coolest tool on the planet. A brand new V-CNC 750 Milling Machine with a 21 tool carousel and Rigid Tapping. Cincinnati machine is a exemplar of what sponsors have done (and will continue to do) for this sport.
Thank you Rich and Norm at NPC Robotics for your 5 year motor/gearbox sponsorship. I really appreciate your superior support as well as helping out in the pits in our time of need. You Guys Rock!
Thank you, to Brad, Illa, Paul and every one at SolidWorks, for the greatest Cad software. I applaud your continued software sponsorship of over 100 Battlebot Teams. By far its the best Cad tool around!
Thank you to Bob, Tony and Ricky at IFI Robotics for the super reliable Thor and Isaac16 control systems as well as your continued support of the entire Robotic community.
Thank you to Patrick at Ballistic Batteries for helping to upgrade the entire fleet of Mutant Robots to 2400 Ni-Cad Batteries.
Thank you Tony and the staff at PC Surplus Online for your committed sponsorship and the computer hardware support.
Thank you to Brent and Bruce at American Airless for the indestructible tires.
Thank you to Chris at Motion Systems for making me strong, reliable linear actuators.
Thank you to Paul and every one at Teksoft for the CamWorks software and your support.
I have a lot of people to thank, but none deserve it more than Trey Roski, Greg Munson and the entire Staff at Battebots. Over 5 years ago (in time sense forgotten) Trey and Greg stepped up to the legal plate to protect ALL the competitors from the Money Hungry Leaches. (MHL for short). The MHL's wanted (and are still actively pursuing) to own the rights to all Robotic Combat robotic events. I whole heartily applaud every one at Battlebots for sticking up for what is right! Battlebots continues to make available a state of the art and almost breach proof arena. They have made sure that there is some money coming back to the combatants for their contribution of building and competing with a robot. With Battlebots following the NASCAR business model, they made it so all combatants could display there sponsors logos to allow for world wide corporate exposure and to aid in the financial growth of all the competing teams. Battlebots signed on large toy company's like Hasbro, Jacks Pacific and THQ to build the first line of RC Battlebot Toys and Video Games. Battlebots has, (with out a doubt), made Robotic Combat a household name by bringing it world wide to Mc Donald's Happy meal's, Pay Per View, The Tonight show with Jay Leno, Playboy, The Man Show, Judging Amy and Yes! Even The Comedy Central! They Deserve that credit!!!
Battlebots continues to bring Robotic Combat to a whole new level where each and every one of us who just love to build robots and compete with our brains, will have a fair chance to be a champion.
With a Cable Network upgrade, a new tech savvy regional format, Some Competitors Support and the plain fact that they are the equivalent of the Super Bowl for engineers, There is no doubt, that the best has yet to come for every one involved , especially the competitors.
I support all other events and have competed in ones like Sozbots, Botbash and soon, Steel Conflict, I'm just saying, Battlebots has shown solid dedication and the sole interest of the builder's since they began, their Dedication to Robotic Combat is,,, (and always will be), unmatched by all others
LONG LIVE BATTLEBOTS!!!
Ok! Battlebots Semi finals
Diesector Vs New Cruelty: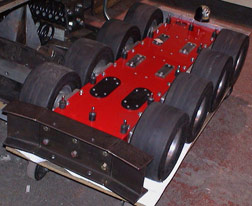 New Cruelty's 8 wheel design out muscled Diesector last season by giving him a short tour of the hammers in the semi finals. But in the 5.0 semi finales, it was a different story. Some how we were able to stay mobile and on the attack. I just did my best to fend off his pushing plan but was unable to gain control for anything close to a KO. Dick is a good driver who does very well at avoiding side attacks. With all that traction he drove away from just about every scenario we were tangled in. Congratulation to Dick Stuplich and Team Killerbotics on their ride to the Simi finals. But, He! He!… I got you this time!
Battlebots Finals
Diesector Vs Vladiator: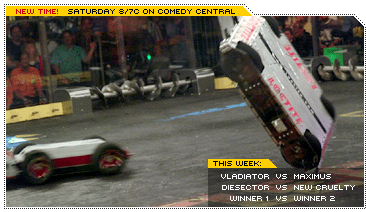 What a high energy battle that was! The best part was the taunting that went on just before the Battle started. We got the croud going by racing from our starting square to nose to nose, and then back to our square. The fans were on their feet. Too bad Comedy Central didn't show it!
Diesector came out right away and took Vladiator to the wall a couple of times with both hammers pounding on his top side. Vladiator slipped away and came flying back to knock Diesector on his back. With in seconds Diesector latched on to a quarter panel and pushed him under a big hammer. As he pulled away, Diesector slammed Vlad and drove right under him while he was air born. We both backed away and went head on again, flipping me back right side up. Another flick of the inversion switch and Diesector was back on the attack for a nether run.
But this time, if you look closely in slow motion you can see Vladiator (with his flipper level) miss Diesector completely and slam full speed in to the Lexan wall. Bang!!The hit was so massive that it broke the steel Battlebox frame holding the lexan in place and somehow bowed it back inwards. If you got a good slow motion on your VCR you can see Vladiator's 3/8 Titanium wedge bow about 3 " and then bounce him back into the Battlebox. On pause you can see the imploded section of the Battlebox with a large gap. Sadly at 1:50 seconds in to our championship slugfest the match was halted due to the broken Battlbox wall. I applaud Trey and Greg for putting Safety first and calling the match when they did. All it would have taken was one more hit and someone could have gotten seriously hurt.
Thank you to Gage and every one else who has congratulated Mutant Robots at the event and through emails. "Win or loose, I always wish for a full 3 minute match". Gauge has a solid robot that is just impossible to stop. If it had not been the last Battle of the night, Maybe the box could have been fixed and we would have continued the battle with out the audience. Oh well! Awesome Battle Gage!
No doubt we will meet in the box again soon.
Donald
12/17/02 Super Heavyweight and Lightweight Championships!
Tune in to the Battlebots season finale on Comedy Central this Saturday at 8/7 PM to see DIESECTOR take on New Cruelty in the Super Heavyweight Semi Finals. The last 1 hour show will have the Super Heavyweight and Lightweight Championships.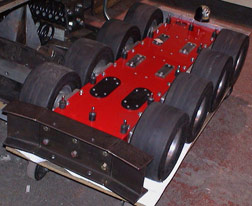 12/11/02 Happy Holiday's
I know my updates lag,,,,, But before Diesector fights next, I wanted to show you all a photo of what Dreadnought from Team Cool Robots did to Diesectors 6061 bumper in our last Battlebots TV fight .
Before
After
Ouch!
Awesome fight Christian!
Battlebots Double Header on Saturday December 14th !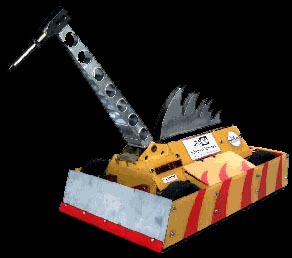 On Saturday Battlebots will air 2 half hour shows back to back, starting at 8/7 PM
Diesector gets a chance at Hammertime in the Battlebots Super Heavyweight quarter finals.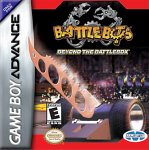 Gameboy Advance (Beyond The Battlebox) Now in Toys-r-us.
Santa got me a early Christmas present today. yesss! Gameboy has lots of top Battlebots including, Tazbot, Diesector, Biohazard, OverKill, Minion, Hazard, Toro, Ziggo and many more. There is even a cool tournament mode that lets you build and battle your own custom designs. You can link up to 4 GameBoy Advance systems together to have your own Robot Rumble. I just need to get smaller fingers!
Support your local robot builders and put Battlebots Toys and Video Games on Santa's shopping list!
Also, the RFL has been born to take on the grueling task of standardizing the many sets of deferent rules supported by local robotic events!
November 6 2002
Its Robot Fighting Time on a all new episode of Battlebots.
Tune in Saturday the 9th at 8/7 PM to see DIESECTOR take on the Deadly Super Heavyweight, DREADNOUGHT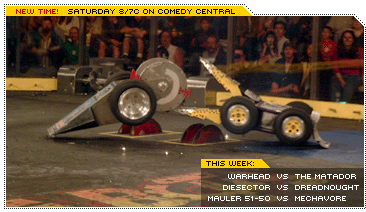 November 5 2002
Wow!!!!! Check out the New THQ web site for the BATTLEBOTS VIDEO GAME coming soon for the GAMECUBE and the PLAYSTATION 2 game console. This Game is going to Awesome!!!
October 13 2002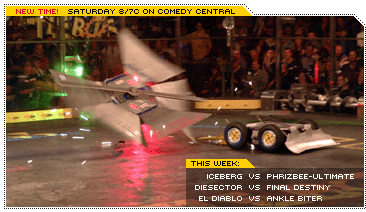 What close call for Diesector. Final Destiny is one scary machine. Diesector would have been ripped to shreds if it wasn't for some quick fabrication to extend the upper jaw and some help from my tires being just the right height to deflect Final Destiny's weapon. If you look closely you can see a peace of Final Destiny's Armor flying over the top of Diesector!
Awesome Battle Team Infinity!
October 7 2002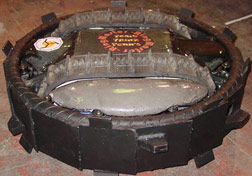 Ring Master
Well on the last episode of Battlebots 5.0 Tazbot lost to a very cool spinner bot called "Ring Master" . Ring Master is a invertable tank treaded spinner with a E-Tec motor.. My fancy new battery powered IFI controller went dead 2/3 the way through the match.. I forgot to charge it ?#$"#"#""$"#""#$#"doe!
Congratulations to the guys at Team Ring Master..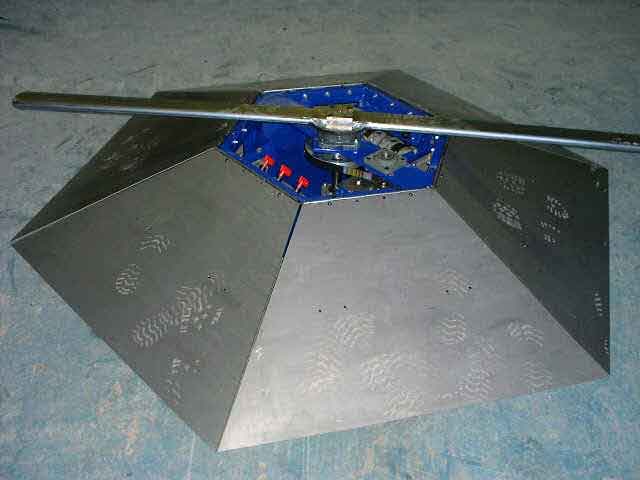 Don't forget to tune in on Saturday morning to catch the 7AM Repeat showing of Battlebots and to see Tazbot take on the Heavyweight Robot "Ring Master" ......AND on the same Saturday Night you need to tune in to Battlebots again at 8:00 PM to see DIESECTOR battle with the Guys from ITT Technical Institute and there new Bot " FINAL DESTINY""??
BATTLEBOTS ON "JUDGING AMY"
Super Heavyweight BattleBot Ronin will be featured on next week's episode of "Judging Amy." The October 15th episode will air at 10 PM on CBS. Click to http://www.cbs.com/primetime/judging_amy/ for further information.
Check out these Picts Builder Peter Abrahamson took at the Judging Amy set here
Very COOL! Battlebots Game Boy is here!!!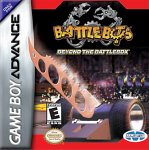 Check out Overkill on the cover of the "New Beyond The Battlebots" Game. This should be a blast linked to another Game Boy!...Should be in stores now or you can order it on line here.
September 10 2002
You can see Tazbot vs ? on 10/5 and Diesector vs ? on 10/12. Please tell every one you know to tune in to Comedy Central at the new time or just shoot them a e-mail. We want to let them know that this Prime Time slot has been needed for some time.
Thanks for watching Donald Hutson
September 17 2002
Very Cool!
NEW,,BATTLEBOTS PRIME TIME - SATURDAYS 8PM ET/PT
Battlebots is on at a new time! Starting September 21st, BattleBots will air in prime time, Saturdays at 8pm ET/PT, 7pm CT. Please check your local cable listings.
BATTLEBOTS For GAMECUBE AND PLAYSTATION2! The BattleBots video game onslaught continues this Fall! THQ Inc. will be releasing the newest BattleBots video game on the Nintendo Gamecube and Sony PlayStation2 platforms! This action-packed game will feature Arcade and Multi-Player Modes, choice of 40 different BattleBots opponents, and 20 varying BattleBox Arenas of Destruction. They are due in stores by November 2002! Get them in time for Christmas!
Battlebots is moving on to the bigtime. Phase 5.0 will be the last season that is aired on Comedy Central sports. The show has been doing very, very well considering the lack of quality time slots. A all new and exiting BATTLEBOTS adventure is coming to a network near you,,, bigger and better than ever before. Be Ready!
I Got Married,,,, September 1st to my lovley bride Dawn. I feel so privlaged to have found a woman that loves the robots and this sport as much as I do...... :}
I also just got back from Botbash. I choped up my old steel Diesector frame and made a 120 lb bot that I now call "Karcas". fitting name for a bot considering I used old parts from my other bots. I also competed in the Sozbots 1lb event with Incinerator. Both bots did well , Karcas tied for second place over all and Incinerator got trashed by a Killer Beercoster. I will post some more info and photos once I catch my breath!!
D
September 9 2002
Mutant Robots in Chicago at IMTS

If you live near Chicago and are attending the IMTS show, come by and check out the new Diesector or just say hello to Team Mutant Robots at the Cincinnati booth A-8101
August 18 2002
BATTLEBOTS (Phase 5) Kicks off a hole new season of Bot Smashing action this Tuesday at 10:00 PM ! Over 400 rebuilt and very angry machines Battle it out in 20 all new half hour shows... Only on Comedy Central !

July 30 2002
SolidWorks has stepped up and expanded there Sponsorship program by now offering Solidworks Office (CAD) and CosmosWorks (FEA) to qualified Battlebot Combatants. Click here to find out how your team can submit a requests for a Software Sponsorship. SolidWorks is a tool no builder should be without!
July 24 2002
SOZBOTS was a blast! ......32 of the Deadliest 1 pound machines fought it out at the latest Sozbot competition in Burbank, California this past weekend. My newest creation INCINERATOR managed to some how pull off First Place (WooHoo!) Incinerator used a modified Battlebots Custom Series toy platform, a twin titanium snout and a small butane torch. Check out the SozBots Site for all the gory details and info on how you can build your own micro warrior for the next event.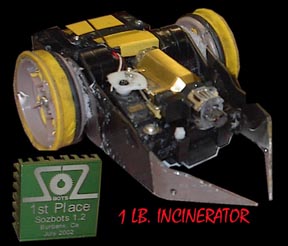 The BattleBots Video games for Playstation 2, Gamecube, X-Box and GameBoy are coming out soon!.
Here is the Offical Press release and a few screen shots of the GameBoy Advance platform.
Click Here to Watch a short QuickTime video of Diesector and Jaws of Death in action.
FOR IMMEDIATE RELEASE MAJESCO BRINGS ROBOTIC DESTRUCTION TO NINTENDO GAME BOY® ADVANCE WITH 'BATTLEBOTS ®: BEYOND THE BATTLEBOX™'
Game Summary:
Based upon the widely popular Comedy Central television show, BattleBots is the sport of remote-controlled robotic combat. On the show, contestants design robots to compete in a fast-paced, ruthless competition to see who can destroy their opponent's robot first. In addition to designing a superior robot, contestants need to be skilled at controlling their BattleBot and use deft maneuvering techniques in order to avoid hazards and do the most damage to their opponent. The entire contest takes place in a steel encasement called the BattleBox, which is designed for maximum safety on the outside and supreme torture on the inside. In the game, players control one of their favorite BattleBots from the TV show, or create their own customized BattleBot. Upon winning a match, players are awarded cash and prizes so they can then upgrade their BattleBot with a wide range of weapons and special features (circular saws, hydraulic smashers, etc.). Key Features: § Head-to-Head Combat - up to four BattleBots can duke it out simultaneously; § The BattleBox - the official arena of BattleBot combat rigged with all the Kill Saws, Pulverizers, Ram Rods and more from the show that gamers can use to their advantage; § Beyond the BattleBox - four additional arenas for robotic mayhem each with its own unique hazards; § Buy and Sell BattleBots - buy or sell customized BattleBots using the Link Cable; § Four-Player, Free for All - game supports 1 - 4 player head-to-head action and allows the trading of BattleBots via the link cable; § Training and Practice Courses - provides practice courses where players learn to steer and control Bots, hit stationary and moving targets; § Bonus Features - players can "unlock" special features through winning performances.; § Customizable BattleBots - Build your own BattleBot or upgrade an existing BattleBot with a wide range of weapons and special features; § More powerful BattleBots than the TV show - because this is a video game, BattleBots incorporates weapons and features that wouldn't be possible on the TV show.
NEW METAL MECHANICS TOYS
Road Champs have came out with two cool new toys to add to your The Metal Machanics collection. A MAULER and a TAZBOT.
The Mauler toy has a real battery powered spinning Shell to pound the snot out of the other toys and make the German woman crazy!
. Tazbot has a manually moving turret with a battery powered lifting weapon.Comes complete with stickers and about 30 parts for you to assemble. Hmmm! I think it might just be light enough to make into a antweight for the next Sozbot competition?.
I do apolajise, my updates keep getting further and further apart due to moving and getting married in September.
6/9/02
Huba!, Huba! Check out this short blurb and photo of Tazbot in the June issue of Playboy. I think Bots and Babes would make for a most excellent spread! Dont you??
6/8/02
Battlebots 5.0 was a blast. There were some crazy battles that I can't wait to see on TV. I can tell you this, The Robots are getting a lot meaner and more sophisticated every event.
I would like to thank every one at Battlebots for putting on another really awesome event. I would also like to thank my Fiancé Dawn and my good buddies, Dave and Mikey for all there hard work and devotion to me and Mutant Robots.
I also want to Thank the winners of Comedy Contrail's "Its Your Battle Sweepstakes" Lance Lyle and his buddy Mike Douglas. They were both super cool and very helpful with all 4 Bots. I think they even had fun?
Check out this awesome on line photo collection of the Battlebots 5.0 Pits. A nice guy by the name of Reginald took over 600 photos of people working on there bots. Man that is cool! Thanks Reginald!!!
SOZBOTS
There is a new robot fighting event called Sozbots. It's basically a competition for robots that weigh no more than 16 ounces (one pound). The great thing about this new competition is that it's a lot cheaper and easier than the "big" robot competitions.
I built a 16oz( flame throwing) bot called" Incinerator" for the very first compatishion a few months back. Check out their website.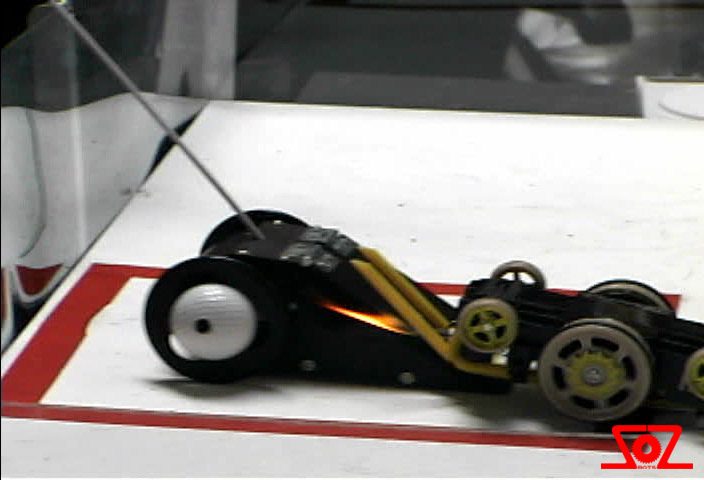 Here is a SOZBOTS photo of the( inverted) Incinerator heating up the fight against Mini Raptor
4/26/02

The McDonald's - BattleBots toy promotion has begun! . Check out the promo on there web page and go get one of each today.

5.0
Battlebots 5.0 is set for may 19th through the 28th at Treasure Island in San Francisco, so if your planing to see the carnage live you better get your tickets soon.
Also check out the Highlights Video from the brand new Battlebots IQ event.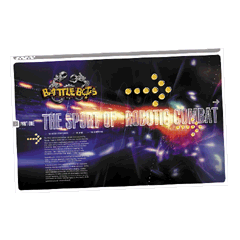 Look for BATTTLEBOTS: THE OFFICIAL GUIDE book, coming soon to a book store near you!
APR 16 2002
BATTLEBOTS TOYS IN MCDONALD'S HAPPY MEALS!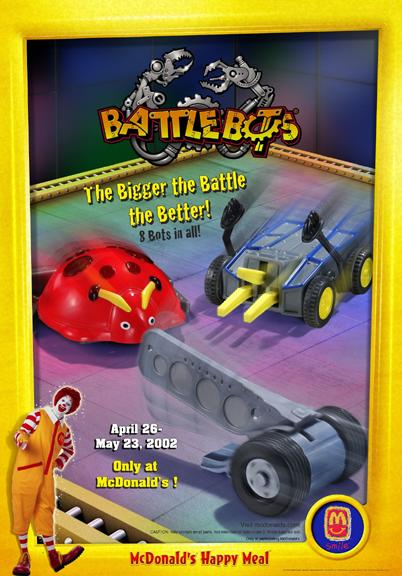 BattleBots Inc. has announced the imminent arrival of the BattleBots McDonald's Happy Meal Toys! From April 26th through May 23rd, 2002, participating McDonald's locations will be offering replica versions of Ankle Biter, BioHazard, Diesector, Ginsu, Mechadon, Overkill, and Mecha Tentoumushi. There will even be a McDonald's BattleBot affectionately known as "Mac Attack." Get 'em while supplies last!
4/5/02
Congratulations!
The winner of the" It's Your Battle Sweepstakes" is Lance Lyle, of Stanwood, MI. Lance sounds like he is going to be a very formidable opponent. He works at the local Radio Shack and has chosen the Mutant J Design as his tool for mass destruction. He has also came up with a cool name. ""Easty Beast"". You can check out Comedy Central's site to see a short video clip of the design phase using SolidWorks and CamWorks to work out the 4130 frame.
Now! Its Bot Building Time!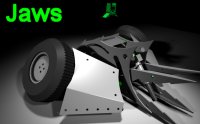 3/18/02
I have attempted to add all of the currently available Battlebot Toys to this site for every one to check out. I still need toy photos and Links for were to bye them at the best price. Some of the Profits come back to the Teams that created the real Battlebots so, I want to present them all .
For those of you in the LA area, Diesector and I will be at WESTEC in the CINCINNATI MACHINE booth on March 19th and 20th. Come by and test your skills against me in a mini Battle using the some of the NEW RC Battlebot "Pro Series"Toys or just come by and say hi.
The Mutant Robots Interactive Experience
One of BioHazard sponsors Immersive Design took some of my SolidWorks designs of the three Sweepstakes Robots and made a cool Interactive viewer so you can check out each of the weapons and see how they would work in detail. It takes about 2 minutes to Download the viewer and load all the parts in the assembly the first time. The Contest is now closed to new entree's but this might help the winner that is chosen this month to decide their weapon of choice.
It's pretty cool, so be patient and let it fully load before tweaking on the buttons!
Click Here to View the Sweepstakes bots in 3D
Well BioHazard got Tazbot again. Congratulation to Carlo all the winners of Battlebots 4.0
Lightweight Champion ...Ziggo
Runner-up ...The Big B
Rumble..Dr Inferno Jr.
Middleweight Champion ...Hazard
Runner-up ...Complete Control
Rumble ...Bad Attitude
Heavyweight Champion... BioHazard
Runner-up.... OverKill
Rumble....Little Sister
Super Heavyweight Champion ...Toro
Runner-up ...New Cruelty
Rumble ..The Judge
Most Aggressive ...Moe
Best Engineered ...The Judge
Coolest Robot...Toro/Tazbot
Best Driver...Donald Hutson
3/11/02
Don't forget to watch the last show of Battlebots 4.0 onTuesday night at 10:00 pm to see Tazbot take on BioHazard in the Semi-Finals . Repeats on Saturday at 9:00am!
2/25/02
Don't forget to watch Tazbot and SilverBack go at it on Tuesdays Battlebots!!
2/22/02 It's Your Battle Sweepstakes
Hello Battle-Bros and Babes, I'm honored to have been chosen and to announce that Comedy Central has launched a new contest that will allow one lucky winner to be a part of the Mutant Robots Team. The winner will help in the chosen creation of a brand-new middleweight Bot built by me. They will be trained in the art of Battle and get to compete in the in Battlebots Season 5.0. Comedy Central will also give you $5 Grand and pay for the trip. Make no mistake!!!, the winner will have to start in the Prelims and work at the shot for the Big Nut just like the rest of us!!!!!So what are you waiting for? Support Battlebots and Mutant Robots by entering and letting me know what design you think would do the best. Good Luck and we will see you in May!
2/18/02
Congratulation to New Cruelty on his win over Diesector and especially to Toro for going all the way and Winning the Super Heavyweight Title.
You Guys Rock!!
2/13/02
Wow! Awesome fights on last nights Battlebots! They showed a great battle with Diesector and Peter Abrahamson's "RONIN" as well as, DIESECTOR and Sean Irvin's "TECHNO DESTRUCTO". Great fight guys. If you missed it, you can catch it on Saturday at 9:00 AM. Diesector moves on to the simi finals to face Richard Stuplich's "NEW CRUELTY"..???
2/11/02 Its Robot Fightin Time!!
Diesector Takes on Techno Destructo in a Battle to the death on episode 6 of Battlebots 4.0.. The Mutant mayhem begins Tuesday the 12th at 10:00 pm. You can catch the repeats on Saturday morning at 2:00 am and 9:00am, as well as Sunday at 1:00am.
I added some stuff to the Articles section of the site, including a story in the NEW YORK TIMES and American Machinist
News 1/4/02 MERRY CHRISTMAS and HAPPY NEW YEAR !!
It has been a while sinse I posted any updates. I took some well deserved time off during the holidays to spend time away from the robots as well as, recover from the last BattleBots event. I hope every one got what they wanted for Christmas!
The New Battlebots 4.0 Kicks off on Tuesday, January 8, 2002 at 10:00pm. Look for former "Baywatch" Babe Carmen Electra to take over the reins of sideline interviewer! Errow!
There is a new Root Canal section with a few construction photos. The 4.O fight details will post after the season!
The people at PalmVID gave me a wireless RoboCam witch I installed in Root Canal to show you a Micro Melee of all 8 of the New RC BattleBot Toys going head to head with Root Canal filming.
I put a New Video of My self and Jim Snook on the site from the (NBC 7/39) Morning News. We were promoting the all the New Battlebots Toys two days before Christmas.
There is a Awesome New Book called ROBOT RIOTS , The Good Guide to Bad Bots written by Alison Bing and Erin conley. Lots of great tips and Robot Photos. Now at www.Robotbooks.com and Barnes & Noble stores everywhere.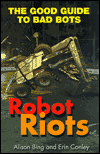 News 10/31/01
Happy Halloween!!!
Its alive, Bo ou ou ou awe! Root Canal is my new Middleweight robot for the up coming Battlebots 4.0. The new edition to Mutant Robots was Conceptualized after a 5 hr torture session for a Root Canal and Crown at my local Dentist last year. I will post photos of the little guy after the 4.0 event. Diesector and Tazbot are also ready for battle with many exciting upgrades. I added a cool Spin Image Page to the site so you can check out all of the competitors from the last Battlebots 3.0 event with a 360 degree rotating perspective. For more info and your own kit to create Spin Images, Go to Autolycus
Check out the New Awsome Deals Pro Series Battle Bots at andersonstore.com only a few left at this Super Price!
The new "Pro Series" RC Diesector and Biohazard are coming to toy stores soon. You can pre order them for Christmas from FAO Schwarz and the Sears Wish Book FAO Schwarz, Diesector Biohazard Sears Wish Book, Diesector Biohazard


The New Battlebots RC Table Top Toys are also in WalMart ,Target and all other Toy Stores now!

The NEW RC Custom Series Robots have interchangeable weapons and impact sensors for your own Custom Robot Rumble. There is El Diablo, KillerHurtz, Minion, Vlad the Impailer and a twin pack with DooAll and Blendo

PocketBots keychains are also in stores with El Diablo, KillerHurtz, Minion, Mechadon, Vlad and Ginsu. These have a pull back string and a light that turns on when activated. They are meant to be attached together and when turned on the weapons move.

News 10/7/01
I would like to Welcome our new sponsor www.PCSurplusOnline.com .Check out their Awsome computer deals!!! I will be using a donated P2 laptop to run the New IFI Issac16 in Diesector! Thanks Guys!

BATTLEBOTS 4.0
10-1-01 Battlebots.com
The next Tournament will take place from November 4th through November 11th, 2001. The tournament will be taped for Season 4.0 of the "Comedy Central Sports Presents BattleBots" television series. The Tournament will be held in Studio 3, Treasure Island, San Francisco, CA.

BATTLEBOTS IQ
10-1-01 Battlebots.com
Battlebots announces the BattleBots IQ Youth Tournament for late March 2002! The competition will be held at Universal Studios in Orlando, Florida. The event is open to students 12 to 18 years of age and each Team must have an adult guardian or mentor. This will be a single (1) weight class event open to Middleweight robots only.


News 9/15/01
UNITED WE STAND!!
Please Donate today to help those in need! http://www.september11fund.org/
News 9/1/01
Check out this cool article of Diesector, Tazbot, Tripulta Raptor, Frenzy and Snipe in the latest issue of American Machinist

Its Robot Fight'n Time!
8/7/01
Check out Tazbot's 2nd fight of Battlebots 3.0 (Tonight) against Golddigger on Comedy Central at 10:00 PM (Pacific) .
Diesector will fight Dawn of Destruction in his 2nd fight on 8/14/01.
Wow!!
The New BATTLEBOT toys have there own Web Site! http://www.roadchamps.com/battlebots_popup.html
Mutant news 6/29/01
I'm very proud to say, The New Battlebots GRIP N GRAPPLERS Toys are in your local K-Mart and Walmart stores Now!
Both Tazbot and Diesector are amongst the lucky few in the first collection of new Battlebots toys, including, MAULER, TORO, GRENDEL, FRENZY, ZIGGO and DEADBLOW!!! You can even bye the BATTLEBOX ,, complete with Saw Buzzing sound!!! The New Battlebashers and Spin Bots Toys will be out very soon!! Better get them now because their going fast!
You can check out the people making the toys at www.roadchamps.com !
Mutant news 6/23/01
The All-New Battlebots 3.0 starts airing July 10 at the same Bot time! The same Bot place!
On Comedy Central's "BATTLEBOTS" TV show.
Tuesday nights at 10:00pm. With repeat broadcasts airing Saturdays at 5:00 PM and 11:00 PM and Sundays at 10:00 AM (all Central times start 1 hour earlier). See your local cable guide, Mutant news, Comedy Central or Battlebots.com for show times!
Check out the awesome special Effects work of Peter Abrahamson (With Ronin) on the Cool New Show "Beer Money", a made for TV movie, that Peter built and puppeteered an animatronic alien head for, premieres June 19th 9:00pm EST/PST on the USA channel, be sure to tune in.

The Cool guys at www.CincinnatiMachine.com have released a Press release showing their wonderful support of Mutant Robots and the Sport of Battling Robots! The New Billet aluminum Hammers they made were a huge HIT at the recent 3.0 show.
Check out their web site and ponder at the Power!
Ou! Ou! AAW! Awwwwe!
Cincinnati Machine also has a bunch of the New (Team Mutant Robots) Long Sleeve shirts for sale. These are different than the standard green and gray Mutant shirts I sell. There is a large Mutant Logo on the front and a picture of both Tazbot and Diesector on the back. The Black shirts have Cincinnati Machine down both the sleeves in white, Very Cool! . You can E-Mail my Pal Greg at greg_weyman@cinmach.com to order! Check out the Mutant Store for all the Shirts and New Toys to be released in late July!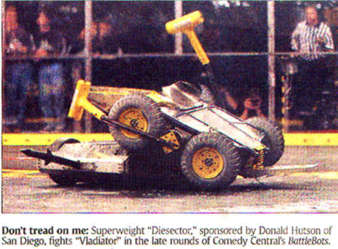 There is a goodarticle in the Money Section of USA Today newspaper from June 8, 2001, with a very cool picture of Diesector and Vladiator going at it. The article features Cool Robots (www.coolrobots.com) and Greenspan ( www.teambrown6.com) as well as some of the upcoming deals BattleBots has landed including Toys.

Lastly I have added some new videos of the New York Toy Fair demo. You can see Christian Carlberg of www.CoolRobots.com and I battling it out in a very small BattleBox for all the IBM and Hasbro people. Some thing to tie you people over tell the carnage of the Battlebots3.0 show starts.
5/21/01
As usual, the updates to this site are well over due! I want to thank the all people that have e-mailed me with there inspiring thoughts and crazy robot ideas. I do apologize for not getting back to a few of you as fast as I would have liked! . I would like to welcome "Cincinnati Machine" as our Exclusive Machine Tool Sponsor. ( Look out guys, It's CNC Time!)

I also want to welcome our T-shirt sponsor Organ Donor ( who now sales Mutant Robot shirts on line!) and our new sticker sponsor 1,2,3 Sticker.com. Check out there web pages to see the wonderfull services they provide. I have been working diligently to prepare the robots for the latest Battlebots event in San Francisco (May 22-28).

Disector and Tazbot have been conditioned for major battle and have no intentions of giving up the Nuts with out a good fight! I will try to post some event photos and the IBM & Toy Fair (demo) videos of Tazbot vs. Overkill ,as well as Diesector vs. Minion after the smoke clears from the SF event. Good luck to all the competitors and remember,,,,, Kill robots, Not People!
3/14/00
Well BattleBots site has anounced the next event (Season 3.0) for May 22-28! Times a ticking both robots are undergoing full upgrades. You may even see a middleweight.Check out Team Nightmares webpage for the detailed results of BattleBots Season 2.0, Las Vegas 2000 Event Report !Watch for Nightmare
, along with Toro,

Voltronic and DooAll to appear on an upcoming episode of the "Nash Bridges" TV show on CBS! Right now the episode air date is set for March 30.Also, be ready for an upcoming episode of "Win Ben Stein's Money" game show on Comedy Central, Jim Smentowski (Nightmare,Backlash), Morgan Tilford (Mauler) and Stephen Felk (Voltronic) to try our chances at $5000!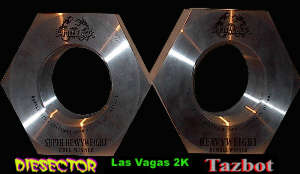 Mutant News 02/20/01
TAZBOT WINS Heavy Weight Rumble and DIESECTOR WINS Super Heavyweight Duel
Hello Robot Heads!
Donald here with Mutant Robots, First off, I would like to say "Thanks to Trey, Greg and all the other Battle-Bro.'s that have made Battlebots the Sporting event of the millennium, toy meca and a household name." Battlebots truly created the word "Robitchin"! I had a lot of help this time around and some of it came from fellow competitors like Dave and Greg with World Peace and Dan Rupert with Revision-z who both helped repair Diesector's fried battery wires more than once.

Also, Peter Abrahamson (Ronin) who pounded 4" drywall screws into my damaged tires and the guys from Innovation First who sponsored Tazbot halfway through the event with (4) 883 controlers just to make sure that Vlad got a run for his money! My wonderful girlfriend and my roommates who were so supportive the past few years even though the robots were consistently plagued with problems and bitter loses. I know Diesector was very lucky throughout the event. My battery wires were melting every other fight and when I stood War Machine on end,

I just thought of the wires and how much I needed the win! Had i hit war machine of the wall I could have had futher problems and lost the match. Atomic Wedgie is a strong robot that did very, very well! When Diesector first collided with Atomic Wedgie , I realized they had some kind of drive problem and could only turn in circles.I know the outcome may have been different had Atomic Wedgie not lost their drive shaft! I felt after the War Machine fight that I needed to provide the viewers with a dramatic ending.

I continued to drive into them but the Diesector started smoking, my breakers kept trippen and I had to stop and reset the robot several times! Once the RT. weapon got stuck in the floor I thought it was all over! I'm really glad Atomic Wedge got free and finished cutting my arm off, but I would rather it went the distance for a cool clean win! There is always May! ....Long Live Battlebots!
Bye for now,
Donald Hutson

Mutant News 1/26/01
I have been very busy with my new job at NSI and haven't had much time to update the web page Highlights of the SF & LV Battlebot adventures will be posted just as soon as I get around to it.

Tazbot was on Battlebots 2.0
Afew weeks ago getting the annual beating From Vlad The Impailer. If you missed it, you can see my interview on Comedy Central (Battlebots) web site under there Builder Section. http://www.comedycentral.com/bots/arena/index_flash.shtml

Diesector will be on Battlebots 2.0
January 30th, fighting in his third battle of against the deadly Rammstein of team Loki. Check out the interviews and a new Battlebots game that the people at Comedy Central made that loads up in your browser! Play the BATTLEBOTS: METAL BREAKDOWN game! http://www.comedycentral.com

Mutant Robot T-shirt's will be on sale soon!
My pals Allen and Dean have a clothing "Organ Donor" are distributing the shirts any ware in the US for just 20 Bucks.

New Videos including Battlebots on Access Hollywood,
Diesector and I on 10 news, Me on Jay Leno and more!

Canada started airing Battlebots 1.0 on Jan. 26th.
The first show "Prelude to War" is taking the country by storm. Check out there Media coverage and the Canadian Comedy Page. > www.Battlebots.com has All New photos and team bio's from the Las Vegas Battlebots event held in November 2000
12/7/00
JUST IN TIME FOR THE HOLIDAYS - THE BATTLEBOTS STORE OPEN FOR BUSINESS
Purchase T-shirts, videos, posters and educational robot kits at our new online store.
Start Shopping Here
12/2/00
I will be updating the Mutant Robots site very soon with more robot video's, photos, and stories of the Tazbot, Diesector legacy.
Bravo to all the people who helped out and competed in the San Francisco Battlebots. A big thanks to the people at Comedy Central for putting all the destruction on cable for the world to see! Right On!

Congratulation to Comedy Central's Battlebots Champion

WINNER
Super Heavyweight Division Championship
Minion
Christian Carlberg
Web site Web site www.coolrobots.com

WINNER
Heavyweight Division Championship
Vlad The Impaler
Gage Cauchois
Web site http://home.earthlink.net/~gagecauchois/wsnE413.html

WINNER
Middleweight Division Championship
Hazard
Tony Buchighani, Dan Danknick
Web Site http://mypage.goplay.com/war_machines/page2.html

WINNER
Lightweight Division Championship
Backlash
Jim Smentowski
Web site www.robotcombat.com

11/21/00
Battlebots Las Vegas
Las Vegas was very cold and the whole crew had a real blast! All I can say is that both robots did a little better this time and at least won a fight this time around! The people involved in the event were as awesome as ever. I would like to thank every one at Battlebots for putting on another truly great event! A special thanks to my girlfriend Dawn and my buddy Dave for all their help and devotion. I really appreciate the Innovation First guys (Bob and Tony) for their last minute sponsorship of Tazbot with (4) Vector 883's as well as there expert help both this year and last!

Also like to thank West Co. Battery for sponsoring Diesector with a boatload of new SVR Audio Series Batteries (600Cranking Amps). There were a lot of people in the pits helping me as well as each other and that was really, really cool! Deadly Robots were everywhere and the Comedy Central Crew definitely got some great battles on film. The Las Vegas Championships will start airing at a new Tuesday time slot, starting 12/12/00 at 10:00pm on Comedy Central's Battlebots. Check out Comedy Central's web page or Battlebots.com for your local cable listings.

11/10/00
Holy flying robot guts Batman! """Jay Leno""" On Friday the 3rd Diesector, DoAll and Mauler proudly traveled to NBC studios in Burbank as guest on the Tonight Show with Jay Leno! (wow!) Each robot performed a short demonstration of destruction behind a clear lexan wall to win the chance to battle Jay Leno's robot "Chin-Killa" on the following weeks show. A live Internet poll decided the winner and it was Mauler from the South Bay Robo Warriors who won the vote. (by a fraction of a saw blade!) I protested Florida for a recount but that excuse was all ready taken!

Chin-killa was armed with a pneumatic "chin" and 4 spinning spring steel lawnmower blades and weighed in at a whopping 400 lb. The following week the reinforced Mauler and Chin-Killa fought it out in a scaled down version of the battlebox, complete with Sean Salisbury, stronger saws and new deadly hammers. To see more Jay Leno converge go to http://www.robotcombat.com/ and check out Team Nightmares massive video collection and find out how Chin-Killa takes home the win and moves on to fight Ginsu in the Las Vegas Championships. If that wasn't cool enough! The hospitable Jay Leno invited us out to see and hear his 250mph, Rolls Royce Turbine powered crotch rocket with rear view color cameras and "Hello jay" flying across the twin screen LCD displays! The motorcycle looked and sounded absolutely crazy! Pictures coming soon!

10/26/00
Battlebots on Jay Leno!
Super Heavyweight Champ, Christian Carlberg and Lisa Winter were both on The Tonight Show with there middleweight robots, Toe Crusher and Tentomushi. NBC people constructed a small arena out side the studio and the two robots went at it in front of 6 million people! Lisa Winter won the fight, but Battlebots scored the major hit.

Diesector goes Hollywood

Well its confirmed! Diesector, Mauler and DooAll will be smashing all kinds of stuff on the The Tonight Show with Jay Leno!!!! Please tune in tonight (Friday November 3rd) at 11:30 PM on NBC (Must See).

Also on Saturday Nov 25,

Comedy Central will be showing 6 hours of episodes all at once! From 2pm til 8pm. Its Battlebot day!

Mutant News
Well the smoke has hardly cleared from the Battlebots premier TV show and I thought it was time to make some major adjustments to my poor neglected web site.
As you may have noticed being a Web Master is not my forte. As I learn I will be adding new photos and updating a bit more often. Now that I have two robots 'TAZBOT' and 'DIESECTOR'' I really thought it was time to Change from good old Team Tazbot to MUTANTROBOTS.COM . Please let me know what you think!
Hope you like the new site.
NEWS 8/23/2000
Battlebots and Comedy Central Blast off with a Totally New Weekly TV series and Two new kicked New Web pages
Battlebots http://battlebots.com/
Comedy Central http://www.comedycentral.com/bots/index_flash.shtml
NEWS 8/13/2000 AN ANNOUNCEMENT FROM BATTLEBOTS
THE NEXT EVENT:
BattleBot Builders - We wanted to let you know that we are planning the next BattleBots event for November 17-19 in Las Vegas. While this event is as yet unconfirmed and subject to change, we wanted to give you as much lead time as possible. Official confirmation and event details should be made available soon.
This event will include all four weight classes
This event will be televised for the NEXT 13 Comedy Central episodes Comedy Central plans to use robots from all four weight classes Entry Forms will be made available on-line when the event date is finalized. We will also issue an additional mass e-mail at that time specifying event dates, location, entry procedures for veterans and newcomers, any new or updated rules, and entry limitations/qualifications. This information will also be available on our website at http://www.battlebots.com.

News 7/31/2000
BATTLEBOTS SERIES TO AIR WEDNESDAY, AUGUST 23RD:
The Comedy Central BattleBots series begins Wednesday, August 23rd with a half hour promotional special at 10:30 PM (after South Park) and repeating on Saturday, Aug. 26 @ 10:00 AM, 5:00 PM & 11:00 PM, Sunday, Aug 27 @ 11:30 AM, Monday, Aug 28 @ 1:00 AM and Wednesday, Aug. 30 @ 3:30 PM (all times PST)
The series proper will continue Wednesdays at 10:30 PM (after South Park) with repeats Saturday at 5:00 PM and 11:00 PM. For more info
check out http://www.comedycentral.com/bots/
7/11/ 2000
The latest from the powers that be at Comedy Central TECHNICAL EXPERT BILL NYE, COMIC DUO JASON AND RANDY SKLAR AND "BAYWATCH" BABE DONNA D'ERRICO NAMED TO COMEDY CENTRAL'SÒ "BATTLEBOTS" BROADCAST TEAM PASADENA,
"BattleBots" is no laughing matter?or is it? Picture this, thousands of screaming fans, dramatic lighting, leather-clad men, a "BattleBox" with glass as thick as the windows on a space shuttle, vicious weapons, destructive devises, intimidating music. All this for the purpose of a fight to the ultimate death of robots! Technical expert Bill Nye, comedic twins Randy and Jason Sklar (MTV's "Apartment 2F"), and "Baywatch" babe Donna D'Errico comprise the "BattleBot" broadcast team covering the competition from "Bot" creation, to weigh-in, to battle, to ringside action.

Nye will serve as the technical expert covering the "BattleBots" weigh-in, providing vital stats on the robots and their weaponry as they are weighed to conform to individual weight classes prior to the competition. D'Errico and the Sklar brothers will serve as feature reporters/correspondents to cover all the ringside drama including the back stories of the participants, both human and robotic, as well as strategy, weapons assessment and damage reports in addition to interviews with the winners and losers and their family members. "I am delighted with the team we have assembled to cover the thrilling non-stop action of the 'BattleBots' competition," said Deborah Liebling, senior vice president, original programming and development, COMEDY CENTRAL. "Bill, Randy, Jason and Donna together have the talent and skills to lend insight, humor and sex appeal to this truly unique and exciting COMEDY CENTRAL series."

"BattleBots" features homemade remote-controlled metallic robots in a variety of weight classes that fight to the "death" in the "BattleBox," a 48' x 48' "Thunderdome-like" arena constructed of shatter-proof glass rising nearly 20 feet. The "BattleBox" features traps, bumpers, sledgehammers, and surprise pop-up weapons such as tungsten-tipped buzz saws and spikes that emerge from the floor, providing additional hazards for the battling robots. The "BattleBots" competition was taped over three consecutive days, June 9-11, at the Fort Mason Center Festival Pavilion in San Francisco. Picked by US Magazine last year as "The New Young Hollywood," Donna D'Errico stars in the popular syndicated series "Baywatch," and "Baywatch Nights." Recently, D'Errico starred in her first television movie "National Lampoon's Men In White," while she refocused her career from dramatic roles to her first love, comedy. She also hosted her own daily half-hour show on MTV "Prima Donna," which featured D'Errico's humorous look at summer on the New Jersey shoreline. She appeared as a Playboy "Playmate" in September 1995.

Jason and Randy Sklar arrived in New York in 1996 and began their comic career in the off-Broadway productions of "Double Agents," and "Flamingo Lounge." Spotted by MTV talent executives, they developed the show "Apartment 2F" for the music channel. The sitcom was based around the brothers' lives and their experience living in New York City. The Sklars have also appeared on COMEDY CENTRAL's "Premium Blend" and HBO's "Comedy Showcase with Louie Anderson." "BattleBots" is a COMEDY CENTRAL production in association with First Television and TalentWorks, Inc. After 18 years in the entertainment industry, Mack and Bradley Anderson formed First Television in 1996. First Television has produced "COMEDY CENTRAL's Vs.," "Omba Mokomba" (The Disney Channel), "Paranormal Borderline" (UPN), "Real Vampires Exposed" (UPN Special), "Psi-Factor" hosted by Dan Aykroyd (syndicated and distributed by Eyemark Entertainment) as well as other programs for UPN, Disney Channel, FOX, ABC, Eyemark and Buena Vista.

TalentWorks brings over 25 years of experience in broadcast network television production and technical operations from their work at NBC, ABC and USA Network. Combined, they have won 22 National Emmy Awards in sports and entertainment. TalentWorks' active client list is comprised of over 90 countries, on six continents reaching over 80% of the world's total available television viewers. COMEDY CENTRAL, the only all-comedy network is currently available in over 65 million homes nationwide. COMEDY CENTRAL, a registered trademark of Comedy Partners, is a 50-50 joint venture of Time Warner Entertainment Company and Viacom. COMEDY CENTRAL's Internet address is http://www.comedycentral.com.
News 6/19/2000 WoW!!! Battlebots San Francisco!!!! What a ride!
It has been a very busy year. After months of racing to design and create the new Super Heavyweight robot I now call Diesector. My team and I drove 9 hours to compete in the latest Battlebots competition at Fort Mason center in San Francisco. The people were very intriguing and the event, weeeent off!! The Comedy Central people were very cool and I am sure they got plenty of really ,really exiting footage.. Now of course, I can't reveal the results of the event until it airs on Comedy Central this fall. But I can say that Tazbot and Diesector put on a good show and are all ready under going major ugrades for the next event.
BATTLEBOTS aires1/29/00 on Pay-Per-View! The world will never be the same!
November 1999 BATTLEBOTS Pay-Per-View
Las Vegas, was a real blast and the people at Battlebots did a really, really grate job. The pay per view event was held at the All-American Sports Park just down the road from the main strip. This Heavy end Superheavy only" Championship was single elimination and if you didn't make it past the first fight you were not expected to be seen in the Battlebots pay per view TV show. Unfortunately Tazbot had first draw agents the well-designed UK robot Mortis. Well as luck would have it, The arm acuator broke and Tazbot was taken out of the championships early in the game.#%!%#$%%!%% Rats!!
See my Fights page for more detailes.

Battlebots announces November 17th event for PAY-PER-VIEW!
The latest Battlebots was very well planed and went on without a snag. Trey Roski and his Battlecrew out-did them self's with this one! The results and Y2K2 details will start airing on IN DEMAND January 29th , 2000 at 7:30. Check your local cable listings , IN DEMAND or BATTLEBOTS.COM for show times! You won't believe your eyes!

September 20, 1999
The second Battlebots event will be in Las Vegas NV. With only Heavy weights and Super heavy weights Competing for cash and prizes. November 17th 1999 Las Vegas, NV. Battlebots 2000 will be smashing through the new millennium with an outstanding pay-per-view event.
August 14th - 15th, 1999
Battlebots goes on as planned with the greatest robot fighting event ever! The new arena has incorporated a raised steel floor; air activated cutting saw blades and spikes to spice up the action. Super Thanks to Trey Roski and the Battlecrew for putting on a really spectacular event. Check out theBATTLEBOTS.COMweb page for the winner results, streaming video clips and the1999 Battlebots video coming soon!
TREY'S RESPONSE TO ROBOT WARS LEGAL ACTION
(4/28/99)
As many of you now know, Robot Wars® has filed a lawsuit in New York against BattleBots, Inc. and me personally. In a recent email, Robot Wars has accused BattleBots of trying to "interfere with Robot Wars", of causing "Robot Wars enormous economic harm", and of trying to destroy Robot Wars. BattleBots does not intend to dignify these comments with a response.
As you know, BattleBots was founded of our commitment to robotic competition and a desire to put the focus back on you, the competitors. Apparently, some individuals do not want to see that happen. Please rest assured that although we intend to defend ourselves in the Robot Wars' lawsuit to the fullest, we will do everything possible to make sure it does not impact you or detract from the competition we are planning for you in August. In fact, we hope that this will be the last frivolous lawsuit that the robotic
community must endure.
We hope that this will be the last time that we will bore you with news about Robot Wars' lawsuit, although we may post information on the BattleBots website from time to time. You are always free to contact me at roski@battlebots.com if you have any questions or concerns. Also, if you have a view about Robot Wars' lawsuit or the people pressing it, please pass that along.
See you in August!
Trey
I would also like to welcome and Thank Brad at SolidWorks for sponsoring Mutant Robots with their laitest CAD software. Check them out at www.solidworks.com
© 1999 BattleBots Inc. All Rights Reserved. BattleBots is a trademark of BattleBots Inc. BATTLEBOTS