La Machine Vs Tazbot
Heavyweight
Semifinal rounds
Sunday morning


Tazbot waited cautiously for La Machine's charge, and when it came swung its arm around and managed toget the blade under La Machine's side. Tazbot lifted, actually tilting La Machine off it wheels. Through it had plenty of strength, Tazbot just didn't have enough leverage to flip La Machine over, and as it tried, nearly flipped itself over. La Machine got free, and backed off to ram again.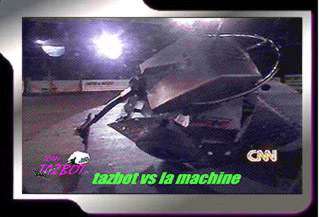 Tazbot was slammed into the corner and flipped over by La Machine. Though upside down, Tazbot refused to surrender; it thrashed around with its arm, trying to get back right side up. La Machine contunued ramming it, and smashed Tazbot in the underside with its pneumatic ram several times.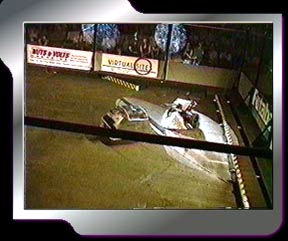 Tazbot was finally able to right itself, but the blows from La Machine had done their damage; Tazobt's frame was bent, and it's wheels not contacting the ground well enough to move. Tazbot was immobile, and La Machine was the winner


Tazbot and Diesector are registered trademarks of Mutant Robots and may only be reproduced with our express written consent!!! All rights reserved.