Battlebot Toys


The BattleBots Video games for Playstation 2, Gamecube, X-Box and GameBoy are coming out soon!.
Here is the Offical Press release and a few screen shots of the GameBoy Advance platform.
Click Here to Watch a short QuickTime video of Diesector and Jaws of Death in action.
FOR IMMEDIATE RELEASE MAJESCO BRINGS ROBOTIC DESTRUCTION TO NINTENDO GAME BOY® ADVANCE WITH 'BATTLEBOTS ®: BEYOND THE BATTLEBOX™'
Game Summary:
Based upon the widely popular Comedy Central television show, BattleBots is the sport of remote-controlled robotic combat. On the show, contestants design robots to compete in a fast-paced, ruthless competition to see who can destroy their opponent's robot first. In addition to designing a superior robot, contestants need to be skilled at controlling their BattleBot and use deft maneuvering techniques in order to avoid hazards and do the most damage to their opponent. The entire contest takes place in a steel encasement called the BattleBox, which is designed for maximum safety on the outside and supreme torture on the inside. In the game, players control one of their favorite BattleBots from the TV show, or create their own customized BattleBot. Upon winning a match, players are awarded cash and prizes so they can then upgrade their BattleBot with a wide range of weapons and special features (circular saws, hydraulic smashers, etc.). Key Features: § Head-to-Head Combat - up to four BattleBots can duke it out simultaneously; § The BattleBox - the official arena of BattleBot combat rigged with all the Kill Saws, Pulverizers, Ram Rods and more from the show that gamers can use to their advantage; § Beyond the BattleBox - four additional arenas for robotic mayhem each with its own unique hazards; § Buy and Sell BattleBots - buy or sell customized BattleBots using the Link Cable; § Four-Player, Free for All - game supports 1 - 4 player head-to-head action and allows the trading of BattleBots via the link cable; § Training and Practice Courses - provides practice courses where players learn to steer and control Bots, hit stationary and moving targets; § Bonus Features - players can "unlock" special features through winning performances.; § Customizable BattleBots - Build your own BattleBot or upgrade an existing BattleBot with a wide range of weapons and special features; § More powerful BattleBots than the TV show - because this is a video game, BattleBots incorporates weapons and features that wouldn't be possible on the TV show.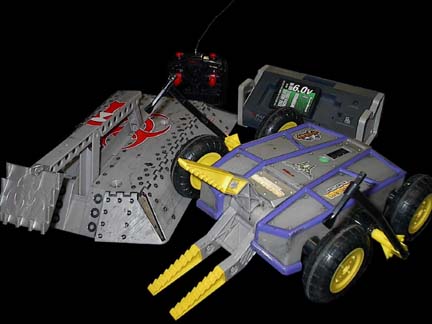 "Pro Series" RC Diesector and BioHazard
Click Here to get your own RC Bot and help support the hardworking people that continue build and battle the real life robots !
The BattleBots "Pro Series" are the largest and most realistic BattleBots robots yet. These radio-controlled robots are real robotic champions from the BattleBots television show! They have tank-style steering which enables them to turn in place for super maneuverability. BioHazard features six-wheel drive and a devastating lifting arm. Diesector features massive hammers, plus powerful gripping jaws. Each robot has three motors - one each for the left and right wheels, and a separate motor to actuate the weapons. Use the dual joy sticks on the fully functional radio control to operate your bot, or hit the special "Turbo" button on the remote control to send these robots into a powerful straight-forward attack mode. Built-in impact sensors allow the robots to do "virtual damage" to each other. Flashing LEDs on each bot show exactly how much damage your robot has taken. Knock out all three lights on your opponent's bot and you have won the match! Switch the frequency selector to any one of four channels in either of two radio bands to control up to eight robots at the same time. Stage your own tournaments, or compete in a "Robot Rumble" where just one robot can come out alive! These huge robots are fast, mean, big and bad. They measure up to 18 inches long! You can even customize your bot with bonus parts. Add additional weapons and armor to stay on top of the competition. Bonus parts are included with the robot along with a custom tool to make the modifications. One nine volt and one six volt Ni-Cad battery pack are required for each robot. These are available at toy stores everyware.
The robots come with a 90 day warranty directly from the manufacturer, But you wont need it,,,My Teammates and I have Beat the nylon Bolts out of ours with with no cracks or problems what so ever..The Impact sensors bridge the gap between RC Racing and Videogames while makeing for a fair and very competive battle . These are first Two Battlebots in the Pro Series line.
We recommend two of each to stage your own robot Rumble!
New Tournament Edition Custom Series Bots include Dr. Inferno Jr. (lightweight champion) and Son of Whyachi (heavyweight champion) as well as the original Custom Battlebots, Minion, El Diablo, KillerHurtz, Vlad the Impailer, DoAll and Blendo.These Tournament Edition Bots feature exciting new weapons systems from tounament champion Bots! Ages 5 and up. Suggested retail: $29.99. Requires (1) 9-volt and (4) AA batteries. Available Fall 2002.
An expansion of the popular Custom Series, the Tournament Edition is a full-function radio control Bot built around a common chassis. Add a variety of accessories, including; wheels, treads, weapons and armor, until your Bot is ready for battle. With two or more Bots, you can even mix and match parts and completely customize your own Bot. Tiger Electronics has also integrated an exciting new patented technology that allows you to control up to 8 Bots at the same time, yet using only the two standard RC frequencies. Kids can stage tournaments or massive multi-Bot battles with up to eight radio-controlled competitors.
Click on Image to learn more!
BattleBots Custom Series feature full-function tabletop radio control robots include Minion, El Diablo, KillerHurtz, Vlad the Impailer, DoAll and Blendo, each is also fully customizable! Each Bot starts with the same basic chassis, but it's up to you to decide what your Bot will look like, whether it has wheels or treads, lifters or hammers, or nasty spinning weapons. Each Custom Series Bot comes with additional parts to allow you to further customize your Bot, and every Bot is compatible with all the others. Control up to 8 Bots at one time and with two or more sets you can mix and match parts and battle away! Ages 5 and up. Suggested retail: $29.99. Requires (1) 9-volt and (4) AA batteries. Available now in WalMart ,Target and all other Toy Stores now!
The BattleBots Custom Series Playset features two BattleBots ; Do-All and Blendo . These full-function, radio controlled Bots are part of the BattleBots Custom Series. Turn the selector switch to choose one of three options for each radio band. Stage elaborate tournaments or compete together in a "Robot Rumble" (each Bot sold separately) where only one Bot can come out alive! Built-in "Impact Sensors" allow the Bots to do "virtual damage" to each other. Flashing LED's on top of each Bot show exactly how much damage your Bot has taken and how long before your Bot is down for the count. Customize your Bot with bonus parts (wheels, treads, armor and weapons, included) and crush the competition! This Playset is ready to go for head to head battling fun! Ages 5 and up. Suggested retail: $59.99. Requires (1) 9-volt and (4) AA batteries.


The New Battlebots Toys are in WalMart ,Target and all other Toy Stores now!
BattleBots Bump 'N' Bash Bots are miniature-sized BattleBots complete with their own battling arena. Each playset comes with two of the most successful and deadly BattleBots (Toro and Atomic Wedgie) direct from the hit TV show. Put it into the arena, and it will seek and destroy the competition! Ages 5 and up. Suggested retail: $14.99. Requires (4) AAA batteries. Available now.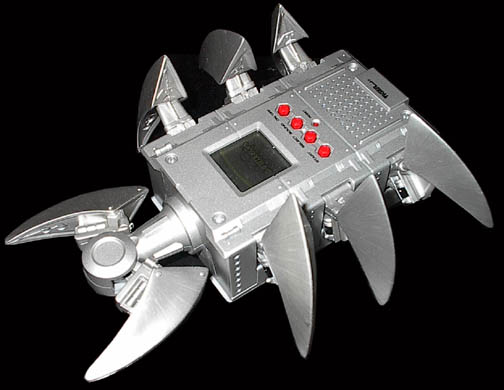 The MECHADON Handheld LCD game is shaped like one of the coolest competitors ever to creep into the BattleBox MECHADON! Like a stainless-steel spider, Mechadon stalks his prey! Control Mechadon's movement on screen by shifting his legs back and forth. Open and close his pinchers and the on-screen Mechadon will attack. Can you defeat the enemy Bots and claim dominance of the BattleBox? Ages 5 and up. Suggested retail: $14.99. Requires (3) AA batteries. Available now.
BattleBots Headset Walkie-Talkies-From the referees to the competitors to the pit crew, everybody on BattleBots keeps in contact with headset radios. Now you can stay in touch, too, The rugged hi-tech look of these walkie-talkies will draw you right into the whole BattleBotsâ experience! Ages 5 and up. Suggested retail: $29.99. Requires (1) 9-volt battery. Available now.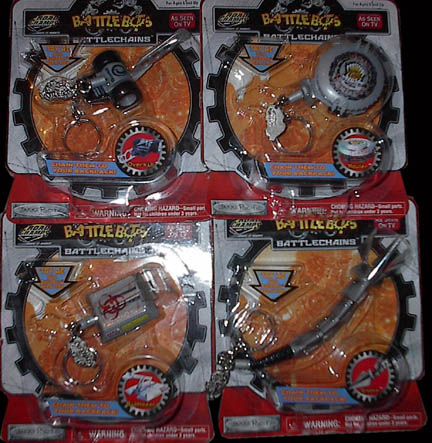 PocketBots keychains are also in stores with El Diablo, KillerHurtz, Minion, Mechadon, Vlad and Ginsu. These have a pull back string and a light that turns on when activated. They are meant to be attached together and when turned on the weapons move.
Battlebots Kickbot Arena Game
Grip-N-Grapplers
The Third Edition Grip-N-Grapplers are now out with MAULER, TAZBOT, DIESECTOR, TORO, GRENDEL, FRENZY, ZIGGO, DEADBLOW and 1 New Battlebot favorite , KILLERHURTZ !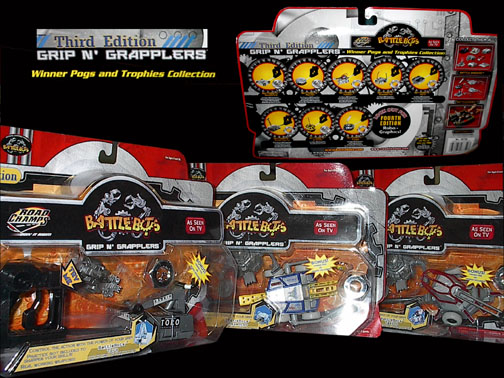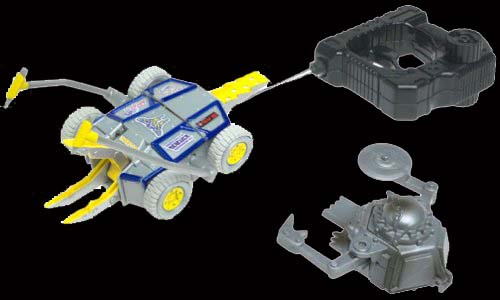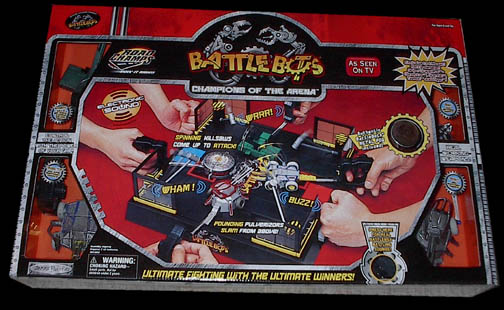 Metal Mechanics
Road Champs has 7 Metal Mechanics toys that you put togather. Each one has a battery powered weapon and authetic detail. Ther is a RONIN, a DEADBLOW, a BACKLASH, a MINION and a OVERKILL. 2 New Metal Machanics toys have just been releast to add to your collection. A MAULER and a TAZBOT.
Click on each toy to bye one directly from the Offical Battlebots Store or you can purchase them at your local toy store
The Mauler toy has a real battery powered spinning Shell to pound the snot out of the other toys and make the German woman crazy!
Tazbot has a manually moving turret with a battery powered lifting weapon.Comes complete with stickers and about 30 parts for you to assemble. Hmmm! I think it might just be light enough to make into a antweight for the next Sozbot competition?.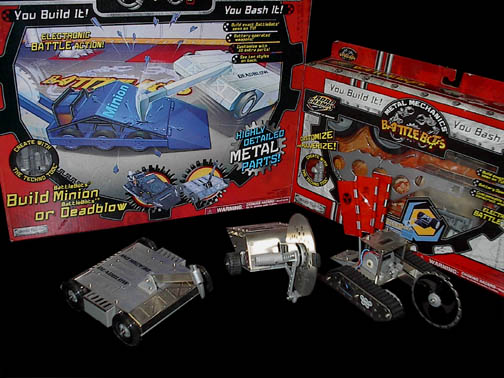 POCKETBOTS

SPINBOTS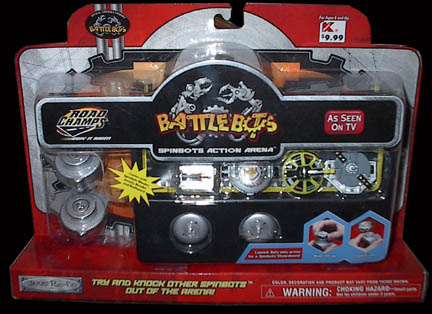 BATTLE BASHERS

BATTLE CHAINS
MINI BOTS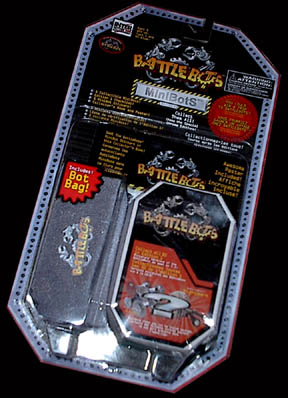 There is a Awesome New Book called ROBOT RIOTS , The Good Guide to Bad Bots written by Alison Bing and Erin conley.Lots of great tips and Robot Photos. Now at www.Robotbooks.com and Barnes & Noble stores everywhere.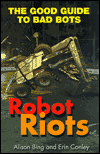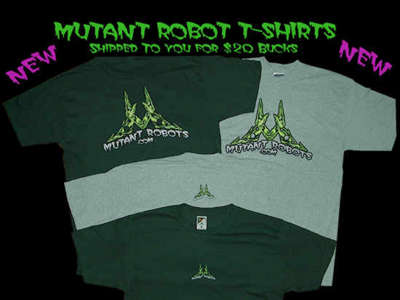 From
Cincinnati Machine has New (Team Mutant Robots) Long
Sleeve shirts for sale. These are different than the green and
gray Mutant shirts I sell. There is a large Mutant Logo on the front and a
picture of both Tazbot and Diesector on the back. The Black shirts have
Cincinnati Machine down both the sleeves in white, Very Cool! . You can
E-Mail my Pal Greg Weyman to order!