TAZBOT vs. RHINO
1999 BATTLEBOTS In Long Beach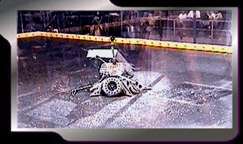 TAZBOT vs. RHINO
Tazbots first fight was with Rhino, an omni directional robot that had a 36"long, liquid CO2 charged ram that punched 1" holes through steel with ease! The first few minutes were cat and mouse with only a few lifts and pins to the saws. Rhino got a couple of lite blows at Tazbot before the CO2 ran dry. Tazbot won bye decision!


Tazbot and Diesector are registered trademarks of Mutant Robots and may only be reproduced with our express written consent!!! All rights reserved.