TAZBOT vs.BIOHAZARD
1999 BATTLEBOTS In Long Beach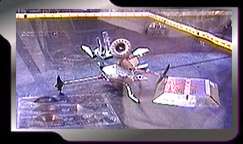 TAZBOT vs. BIOHAZARD
Tazbot's next opponent was the World Champ "Biohazard". Biohazard was a 4" tall slab of milled titanium and magnesium with a strong, retractable lifting arm. Tazbot went in slow hoping to test the new tail and anti wedge devises that circled its perimeter. The only chance Tazbot had was when Biohazard ran over the arena saws and a titanium skirt was lifted for a brief second! Tazbot soon found him self on a toxic ride to the arena wall were biohazard wedged completely under Tazbot and then flipped him into the arena floor saws. The remaining four minutes Tazbot spent drastically trying to flip back over, flailing into the saw many times before losing by knockout to Biohazard! Like they say "live by the saws, die by the saws!"


Tazbot and Diesector are registered trademarks of Mutant Robots and may only be reproduced with our express written consent!!! All rights reserved.